Description
IRON 2 IRON 4 WOMEN INC PRESENTS . . .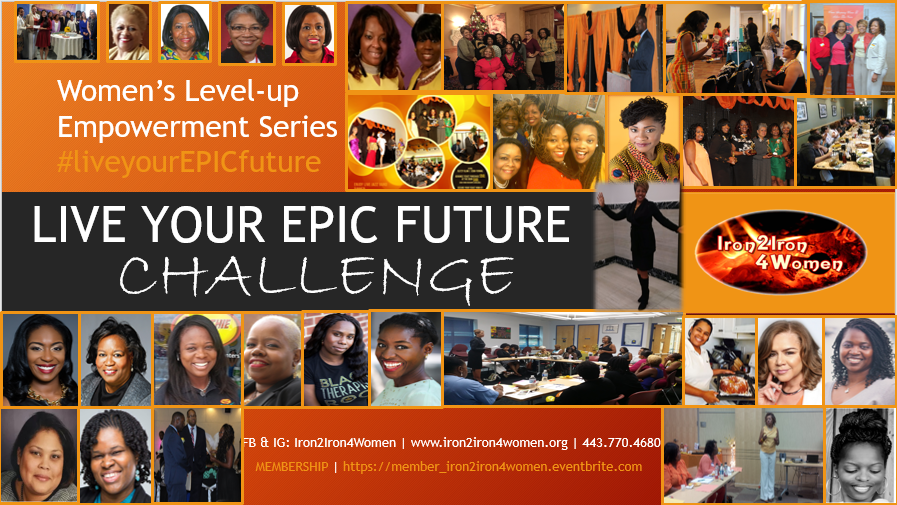 Iron2Iron4Women Inc's 2019 Live Your EPIC Future DMV Tour is an intensive empowerment experience for women entrepreneurs and women that want to start a business. This is NOT business as usual! Learn the 4 critical actions to Live Your EPIC Future (LYEF) in your business, career, self-care and spiritual awakening.
Re-calibrate and level up! LYEF is presented by business owners, and professionals, Dr. Johnette Ruffner-Ceasar, Joyce Parris, Phyllis Saunders-Tucker, and Rev Arleen Anderson.
Don't miss out! Free admission.

Registration Required


Look for Upcoming LYEF Locations

Columbia, MD | Sat, March 9th - 11:00 am - 1:00 pm
Catonsville, MD | Sat., March 16th - 2:00 pm - 4:00 pm
White Oak, MD | Sat, March 23rd - 1:00 - 3:00 pm
Greenbelt, MD | Sat., April 13th - 2:00 - 4:00 pm
Columbia, MD | Sat., April 27th - 11:00 am - 1:00 pm
Elkridge, MD | Sat., May 4th - 11:00 am - 1:00 pm


#LIVEYOUREPICFUTURE

* Like Iron2Iron4WomenInc on Facebook and Follow Us to stay connected on the latest Business Buzz and information to resources on our "Wednesday Wit" posts.

* 2019 Iron2Iron4Women Inc Membership | https://membership2019_iron2iron4women.eventbrite.com
Iron2Iron4Women, Inc
Contact: ironentrepreneurs@gmail.com | (443) 776-1208 | www.iron2iron4women.org
Women Sharpening Women to Achieve Their Vision