Learning poetry from author of Afterland and Fresno State instructor Mai Der Vang, hosted by Live, Write founder Venita Blackburn.
About this event
This is an online poetry workshop for anyone interested in the literary expression of the lived experiences of communities of color. Come join in on this one day Zoom discussion and writing in poetry, facilitated poet Mai Der Vang, author of Afterland and instructor at Fresno State. Participants will produce and share their own creative writing during this workshop. This workshop is limited to 35 participants only. After you RSVP to the event, a Zoom link will be emailed before the event.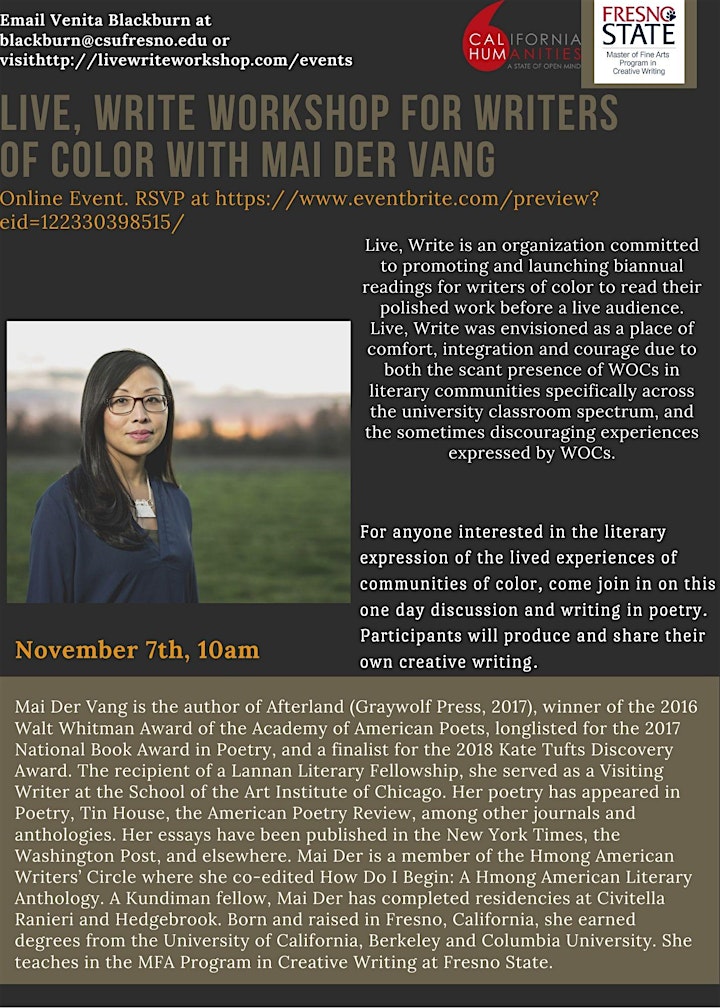 Organizer of Live, Write Workshop for Writers of Color with Poet Mai Der Vang
Live, Write is not a publication but a creative writing workshop free and open to anyone lacking access to a safe, thoughtful and encouraging space for sharing and critiquing work. The catalyst for the workshop began with an observation. There seemed a gap in most workshops where writing by contemporary writers of color (WOC) and material that is sensitive and central to these communities seemed missing. That gap is closing, so while the initial motivator is still present, the workshop is about joining experienced readers to those that lack those vital connections.