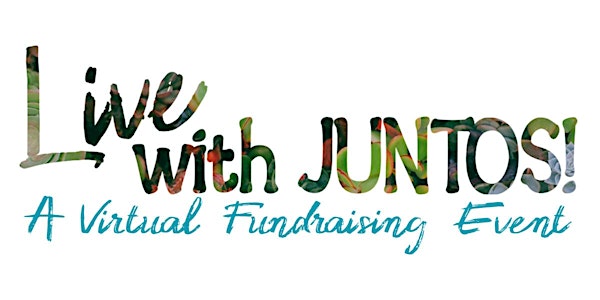 Live with JUNTOS
A week of virtual dance, music, and cultural classes, culminating in a final fundraiser: Toast to JUNTOS!
Refund Policy
Contact the organizer to request a refund.
Eventbrite's fee is nonrefundable.
About this event
Stuck in your house and wanting to move your body? Join JUNTOS for a week of virtual dance, music, and cultural classes taught by professional dancers and experts from the United States, Mexico and Guatemala. The week culminates with a virtual Toast to JUNTOS! Saturday, May 2 - join us for testimonials from past participants, trivia, and more in lieu of our annual spring fundraiser.
NOTE: All tickets are $8 or $15. If you'd prefer to pay $8, please use code JUNTOSLOVE upon checkout.
Participate!
From Wednesday, April 29-Tuesday, May 5, you can take part of any of the following to participate and support:
Take a live workshop, dance or non-dance (more info below)
Purchase art from Mexico by Hand, donating 25% of proceeds during this time with code "JUNTOS"
Attend our last event hour and Toast to JUNTOS on Saturday, May 2
Donate on Tuesday, May 5 - Giving Tuesday!
Learn more about the event and workshops here. Questions? Email admin@juntoscollective.org

All times in PST. Pre-recorded events are indicated by (*)
Wednesday, April 29
5-5:45pm: Seeking the Sacred w/Jean Molesky-Poz, PhD
6-6:45pm: GYROKENISIS® w/Samantha Anton
Thursday, April 30
2-2:45pm: Adv/Beg Musical Theater w/Kelli Youngman
3-3:45pm: Intro to Guatemalan Folklorico w/Christian Barrios* - BONUS!
4-4:45pm: Urban Mix w/Anniela Huidobro* - BONUS!
5-5:45pm:Bachata w/Nestor Antonio Cifuentes Rodriguez* - BONUS!
6-6:45pm: Intro to Afro-Cuban w/Mariana Laparra* - BONUS!
7-7:45pm: Bollywood w/Rachel Higbee Pathak*
Friday, May 1
2-2:45pm: Intro to Jazz w/Michael F. McBride
3-3:45pm: Seated Dance Class w/Georgia Lipari
4-4:45pm: Self Massage Techniques w/Chelsea Hecht
5-5:45pm: Make your own Mezcal Paloma w/Joanna Poz-Molesky
Saturday, May 2
10-11:00am: Beginning Ballet w/Hayley Bowman
11-11:45am: Yoga w/Gabrielle Johnson
12-12:45pm: Inclusive Children's Class w/Eoghan Dillon
1-1:45pm: All Levels Improv/Contemporary w/Julia Horner (teacher change)
2-2:45pm: Salsa / Latin Fusion w/Coriselle Martinez
3-3:45pm: Tap and Rhythm w/Holly Wilder
4-4:45pm: Hip Hop w/Curtis Thomas*
5-5:45pm: Toast to JUNTOS!
All workshops are LIVE via Webex (prior download needed) or PRE-RECORDED and sent via Google Drive. Information is on ticket under more information.
-----------------------------------------------
Funds
Like many nonprofits, in light of recent happenings, we find ourselves in an unusual situation and needing to reshape some of our current programming (for the time being). While JUNTOS has found itself in this difficult place, we continue to pursue our mission. We realize some of you are not in a position to give, but if you are we hope you consider supporting us through this tumultuous time. We're asking you to help us reach our goal of $12,500. These funds will support JUNTOS for the next 4 months, and enable us to continue our work next year.
Why Virtual?
Health and safety are top priority for our community and beyond, and while we will miss seeing your faces we want to offer another way of participating with us. Regardless of the situation, JUNTOS's mission has always been driven by creating community through dance to overcome and embrace adversity. Our work often brings us to physically small spaces where people have endured tremendous hardships. We view this time as an important opportunity to get a little extra creative and continue moving together - juntos.