Read on for important details for this live, in person Brookline Booksmith event, at Coolidge Corner Theatre!
About this event
**ONLINE TICKET SALES FOR THIS EVENT END AT 4PM ET. After 4PM ET you may buy a ticket at the door from our bookstore staff. Tickets at the door are $30 and include a signed copy of WISH YOU WERE HERE.**
Live and in person with Brookline Booksmith, at Coolidge Corner Theatre: celebrate the release of Wish You Were Here with author Jodi Picoult, in conversation with Elin Hilderbrand.
Register for the event!
This event is ticketed. Tickets include a general admission seat at the event AND a signed copy of Wish You Were Here.
Ticketholders will receive email updates with important details about the program, including safety requirements, cancellations, and book signing updates.
Vaccination Required
PLEASE NOTE: Coolidge Corner Theatre currently requires masks and proof of vaccination for all guests. Guests who arrive without proof of vaccination will be turned away, and we will not offer refunds in this instance. FOR FURTHER INFORMATION ON ACCESSIBILITY AND COVID PRECAUTIONS, PLEASE SCROLL ALL THE WAY DOWN.
Signed books!
Books may be available for purchase at the event, but you can ensure that you get a signed copy by preordering on this page. You will receive your signed book as you exit the event.
This event will not include a signing line or meet & greet.
Can't make it to the event? Preorder the book here to have it signed, and choose to have it held or shipped from the store!
If you have trouble checking out, check the Eventbrite FAQ located here.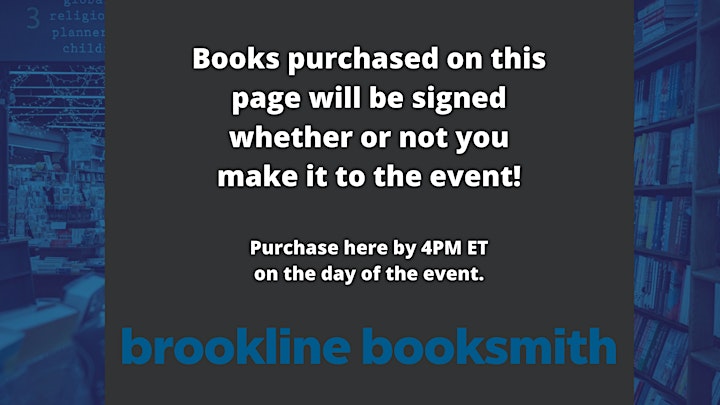 Wish You Were Here
"A powerfully evocative story of resilience and the triumph of the human spirit." -- Taylor Jenkins Reid, author of Malibu Rising
Diana O'Toole is perfectly on track. She will be married by thirty, done having kids by thirty-five, and move out to the New York City suburbs, all while climbing the professional ladder in the cutthroat art auction world. She's an associate specialist at Sotheby's now, but her boss has hinted at a promotion if she can close a deal with a high-profile client. She's not engaged just yet, but she knows her boyfriend, Finn, a surgical resident, is about to propose on their romantic getaway to the Galápagos—days before her thirtieth birthday. Right on time.
But then a virus that felt worlds away has appeared in the city, and on the eve of their departure, Finn breaks the news: It's all hands on deck at the hospital. He has to stay behind. You should still go, he assures her, since it would be a shame for all of their nonrefundable trip to go to waste. And so, reluctantly, she goes.
Almost immediately, Diana's dream vacation goes awry. Her luggage is lost, the Wi-Fi is nearly nonexistent, and the hotel they'd booked is shut down due to the pandemic. In fact, the whole island is now under quarantine, and she is stranded until the borders reopen. Completely isolated, she must venture beyond her comfort zone. Slowly, she carves out a connection with a local family when a teenager with a secret opens up to Diana, despite her father's suspicion of outsiders.
In the Galápagos Islands, where Darwin's theory of evolution by natural selection was formed, Diana finds herself examining her relationships, her choices, and herself—and wondering if when she goes home, she too will have evolved into someone completely different.
Jodi Picoult is the #1 New York Times bestselling author of more than 25 novels including Small Great Things, A Spark of Light, The Book of Two Ways, My Sister's Keeper, and The Storyteller. Picoult's two Young Adult novels Between the Lines and Off the Page, co-written with her daughter Samantha Van Leer, have been adapted and developed by the authors into a musical entitled Between The Lines. She is also the co-librettist of the musical Breathe, which premiered in summer 2021. Picoult's next adult novel, Wish You Were Here, will be published on November 30th 2021.
Moderator Elin Hilderbrand is the proud mother of three, a dedicated Peloton rider, an aspiring book influencer, and an enthusiastic at-home cook (follow her on Instagram @elinhilderbrand to watch her Cringe Cooking Show). She is also a grateful eight-year breast cancer survivor. Hotel Nantucket is her 28th novel.
About Brookline Booksmith
We are one of New England's premier independent bookstores, family-owned and locally run since 1961. We offer an extensive selection of new, used, and bargain books; unique, beautiful gifts; award-winning events series; and specialty foods. Every day, we strive to foster community through the written word, represent a diverse range of voices and histories, and inspire conversations that enrich our lives. Find more at brooklinebooksmith.com!
EVENT ACCESSIBILITY
This event will take place on the second floor of Coolidge Corner Theatre, which is accessible by stair and elevator. ASL interpretation may be provided (based on the availability of interpreters) but must be requested at least 2 weeks in advance of the event. Seats are general admission (first come, first served). Please email us at tickets@brooklinebooksmith.com as soon as possible if you require ASL interpretation, a guaranteed seat location, or other accommodations. We will do our best to serve your needs!
IMPORTANT NOTICE REGARDING COVID & IN-PERSON EVENTS:
Please note that any Brookline Booksmith in-person event may be canceled by the bookstore, publisher, or author based on concerns about health and safety around the time of the event. Wherever possible, any in-person appearance canceled due to COVID will be moved to the Brookline Booksmith Zoom as a Webinar at the same date and time, and all tickets & registrations will be transferred to the online event. Book signing details may change. Refunds may be requested in the case of a virtual pivot or event cancelation. Once personalized and/or shipped, books cannot be refunded.
Please see Coolidge Corner Theatre's health and safety guidelines page for the latest information.
Organizer of Live with Brookline Booksmith! Jodi Picoult with Elin Hilderbrand