Description



Miles Ahead
Live Well San Diego is a regional vision adopted by the San Diego County Board of Supervisors in 2010 that aligns the efforts of County government, community partners, business leaders, employers, and individuals to help all San Diego County residents be healthy, safe, and thrive.

Similar efforts have been duplicated all over the United States, creating small pocket movements to address chronic disease prevention.
Catching Up in WNY
As the UNHEALTHIEST REGION IN NEW YORK STATE, we are faced with the reality that people are battling chronic disease and rising healthcare costs.
From the 3-4-50 concept, we know that THREE BEHAVIORS: lack of exercise, poor diet, and tobacco use, lead to FOUR DISEASES: cancer, heart disease, type 2 diabetes, and lung disease, that lead to over 50% OF ALL DEATHS.
In WNY that number is NEARLY 90%!
That's Why We Need You!
The Live Well WNY movement involves everyone. Only through a collective effort — in which all of us work together toward a shared purpose — can meaningful change be achieved.
Join us on April 18th and help us build a movement! The Live Well WNY Kick-Off Conference will take place at the Buffalo Grand Hotel from 9:00 AM - 4:30 PM with keynote speaker Paul Schmitz, CEO of Leading Inside Out and three-time honoree for The NonProfit Times Power & Influence Top 50.


Agenda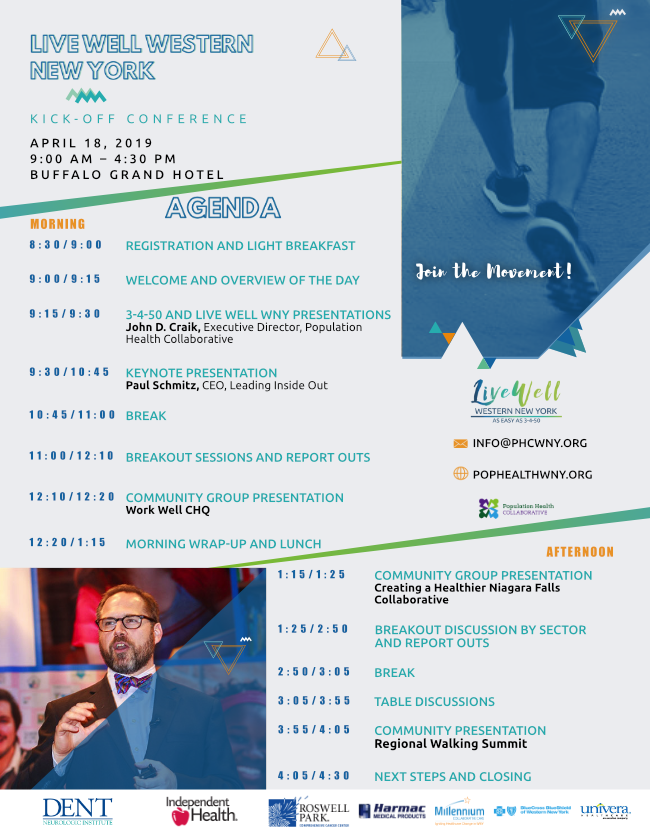 All offline payments must be received by the date of the conference. We will accept checks or cash at the door if you're already registered.