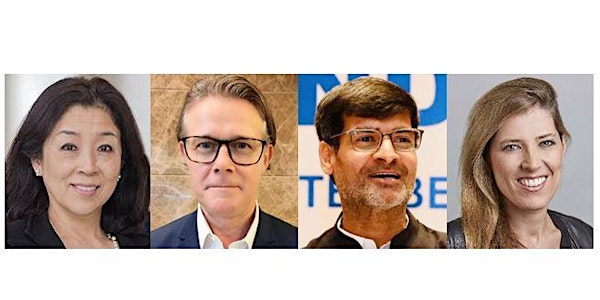 Live Webinar with Keiko Honda, Glenn Hughes, Samir Saran, and Alexis Crow
Investing in Infrastructure in Developing Asia after COVID-19: Navigating Geopolitics to Generate Long-Term Value, Growth, and Returns
About this event
Please note the video for this event will be available on CJEB's website at a later date.
(Live Webinar) Investing in Infrastructure in Developing Asia after COVID-19: Navigating Geopolitics to Generate Long-Term Value, Growth, and Returns
Wednesday, September 30, 2020 | 10:00 – 11:30 AM (EDT)
Featuring:
Keiko Honda
Adjunct Professor and Adjunct Senior Research Scholar, School of International and Public Affairs (SIPA), Columbia University; Former CEO of the Multilateral Investment Guarantee Agency (MIGA) of the World Bank Group
Glenn Hughes
Head of Vietnam, LOGOS Group
Samir Saran
President, Observer Research Foundation (ORF)
Moderated by:
Dr. Alexis Crow
Head of Geopolitical Investing at PwC; Senior Fellow at the Richard Paul Richman Center for Business, Law, and Public Policy at Columbia University
Cosponsored by: Center on Japanese Economy and Business, Columbia Business School; Richard Paul Richman Center for Business, Law, and Public Policy, Columbia University; and APEC Study Center, Columbia University  
Synopsis:
In this public lecture, we will explore the prospects for deploying capital to infrastructure in Asia for the long term. We will identify risks and challenges, and weigh these against the opportunities and potential dislocations brought by the economic fallout from COVID-19 and corollary repricing of assets. In a world of shifting geopolitical alliances—and ongoing tensions such as the US-China technological decoupling—we will also explore the example of Japan as a model infrastructure investor. For several key developing Asian countries, Japan exemplifies a best-in-class partner for infrastructure development—resulting in mutual benefit for people in target markets, Japanese development banks, and the private sector. We will consider ways in which Japan might act as a catalyst and a guide for foreign capital coming to Asia. Amidst ongoing US-China tensions, we will also consider India and Vietnam as target countries for FDI. Finally, in light of heightened consciousness of environmental issues, we will explore the dynamics of a public-private compact for investing in climate-friendly infrastructure projects and the ways in which these investment principles might boost long-term returns.
Optional related reading material:
Article by Dr. Alexis Crow and Samir Saran
About the Speakers:
Keiko Honda is Adjunct Professor and Adjunct Senior Research Scholar of Columbia University's School of International and Public Affairs, where she teaches ESG (Environment, Social and Governance) investing to graduate students.
Honda was appointed as a board member of Mitsubishi UFJ Financial Group and AGC in 2020. She also serves as Adjunct Professor of Hitotsubashi University and a member of the United Nations Investment Management Committee.
Until the end of October 2019, Honda was the Chief Executive Officer of the Multilateral Investment Guarantee Agency (MIGA), the political risk insurance and credit enhancement arm of the World Bank Group. MIGA supports cross-border equity investors and lenders by providing coverage against currency inconvertibility and transfer restriction, expropriation, war and civil disturbance, breach of contract, and non-honoring of financial obligations.
Before joining MIGA, Honda was the first woman Senior Partner in Asia at McKinsey & Company, where she advised financial institutions on corporate finance and strategy and business development for 24 years.
Honda holds a bachelor's degree in consumer economics from Ochanomizu University and an MBA from the University of Pennsylvania's Wharton School, where she was selected as a Fulbright Scholar.
Glenn Hughes joined LOGOS in early 2020 to drive the establishment and growth of the LOGOS platform in Vietnam. He has over 28 years of experience spanning executive roles, project development management and subject-matter expert advisory for international development programs and property/infrastructure investments, working for both private sector and government organizations in South East Asia, Australia, and the Middle East.
Prior to joining LOGOS, he led the establishment and growth of the international development, capital project/infrastructure and real estate advisory practice for PwC Vietnam from 2015 to 2019. He has a strong track record in logistics asset development and portfolio transactions.
Samir Saran is the President of Observer Research Foundation (ORF), one of Asia's most influential think tanks.
His research focuses on issues of global governance, climate change, energy policy, global development architecture, artificial intelligence, cyber security, internet governance, and India's foreign policy.
Working with the Board, he provides strategic direction and leadership to ORF's multiple centres on fundraising, research projects, platform design and outreach initiatives, including stakeholder engagement.
He curates the Raisina Dialogue, India's annual flagship platform on geopolitics and geo-economics, and chairs CyFy, India's annual conference on cybersecurity and internet governance. He spearheads the foundation's efforts to foster new international partnerships and globalize its platforms.
Samir is also a Commissioner of The Global Commission on the Stability of Cyberspace, a member of the Regional Stewardship Board of the World Economic Forum, and a part of its Global Future Council on Geopolitics. He also sits on the Global Internet Forum to Counter Terrorism Independent Advisory Committee as well as the Board of Microsoft's Digital Peace Now initiative.
He has authored four books, several academic papers, and is featured regularly in Indian and international print and broadcast media. He has recently co-authored two books on geopolitics: The New World Disorder And The Indian Imperative with Shashi Tharoor and Pax Sinica: Implications for the Indian Dawn with Akhil Deo.
Samir completed his doctoral studies at the Global Sustainability Institute, UK. He holds a Masters in media studies from the London School of Economics and Political Science, UK, and a Bachelors in Electrical and Electronics Engineering from Manipal Institute of Technology, India.
Dr. Alexis Crow leads the Geopolitical Investing practice at PwC, helping leading companies and asset managers to capitalize on dislocations in order to profit and expand around the globe. Previously, she was Managing Director at New York-based G2 Investment Group, where she was responsible for developing investment strategies for the firm, and for providing counsel on geopolitical issues.
Prior to joining G2, Dr. Crow was an expert at the London, U.K. -based think-tank Chatham House (Royal Institute of International Affairs), where she led a project which facilitated dialogue between governments, business executives and thought leaders on how to effectively mitigate risks and secure commercial interests across cultural boundaries. Crow was a regular speaker on geopolitics in conferences and thought leadership forums in Europe, Asia, the US, and the Middle East.
Previously, Dr. Crow was a Teaching Fellow at the London School of Economics and Political Science. She also worked as an analyst at the Royal United Services Institute (RUSI) in London, and managed the Centre for the Study of Terrorism and Political Violence, St. Andrews, Scotland. Dr. Crow holds a First Class MA in International Relations from the University of St Andrews, Scotland, and a Masters and PhD from the London School of Economics. She is fluent in French and Spanish, and has a working knowledge of Portuguese, Italian, and beginners Hindi. Dr. Crow has contributed frequently to international print, radio, and television media, including the Financial Times, the New York Times, Bloomberg, BBC, BBC Arabic, France 24, Al-Jazeera, Xinhua, CNN, and the Huffington Post. She is a guest lecturer at Columbia Business School, and a Senior Fellow at Columbia Business School, and a Senior Fellow in the Global Business and Economics Program at the Atlantic Council. Dr. Crow is a member of the Global Futures Council on Geopolitics for the World Economic Forum.
Admission and Contact:
This is a free event. You must register for the webinar to receive the login details. Participants will receive a link to access the live webinar upon registration.
If you have questions about the event, please contact us at cjeb@columbia.edu. For more information about other CJEB events, visit our website or contact cjeb@columbia.edu.