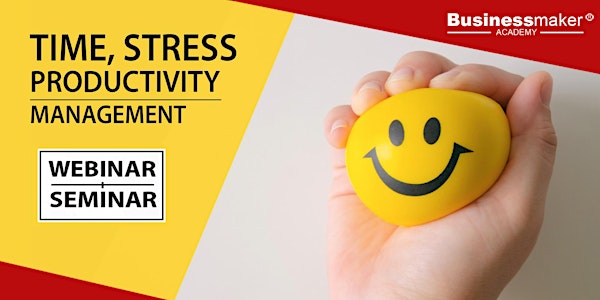 Live Webinar: Time, Productivity & Stress Management
"How to Get Organized for Better Use of Time & Less Stress in the Workplace"
Refund Policy
Contact the organizer to request a refund.
About this event
Course Description
This webinar helps you manage your time effectively and handle stress to improve your work-life balance. It provides strategies for better time management. It provides daily habits and action steps to help participants be productive with lesser stress to achieve a happy and healthy life.
What you'll learn
-Identify the causes of stress and particular time wasters and adopt strategies for reducing them
-Clarify and prioritize one's mission and objective
-Learn the healthy ways of coping and dealing with stress.
Course Highlights
1. Causes & Effect of Stress
2. Stress Levels & Mental Health
3. Personal Mission & Objective
4. Life Balance Checklist
5. Life Goals Setting
6. Identifying Stressors & Time Wasters
7. Stress Detector
8. Work Day Inventory Assessment
9. Time Wasters vs. Time Savers
10. Your Work Personality
11. Setting Priorities
12. Planned Response to Stressors & Time Wasters
13. Starting the Day Right
14. Creative Solutions for Stress & Time Management in the Workplace
Who Should Attend?
Managers, Supervisors, Team Leaders, HR professionals, Office Administrators, Department Staff or any person who wants to manage stress and time better for a happier work life.
For more information, you may contact us through:
(632) 7957-7937, 7577-9211
(0917) 6372471, (0912) 2231826
info@businessmaker-academy.com
www.businessmaker-academy.com