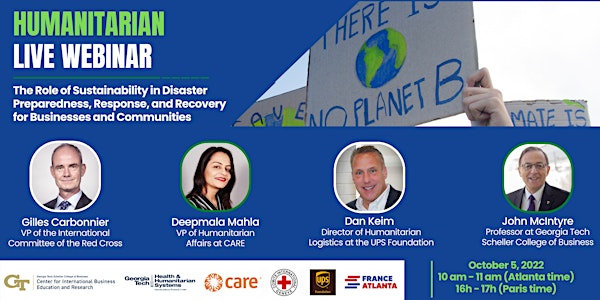 LIVE WEBINAR-Sustainability & Disaster Preparedness, Response and Recovery
3 distinguished speakers from the International Committee of the Red Cross, Care and UPS Foundation. Moderated by a Georgia Tech professor.
About this event
The frequency, magnitude, and impact of disasters have been growing at an unprecedented rate, in part due to climate change as well as large and vulnerable populations living in high risk areas. To mitigate or reduce the negative impact of disasters on people and the economies around the world, synergistic collaborations are needed across governments, businesses, and NGOs.
The panel will discuss these challenges and opportunities, with a focus on how business sustainability and public/private partnerships might help communities in disaster preparedness, response, recovery, and more broadly, climate change, as well as businesses.
The panel, co-organized by the Center for Health and Humanitarian Systems (CHHS) and the Center for International Business Education and Research (CIBER) at Georgia Tech, will feature three distinguished speakers:
Gilles Carbonnier, Vice-President of the International Committee of the Red Cross
Dan Keim, Director of Humanitarian Logistics at the UPS Foundation
Deepmala Mahla, Vice-President of Humanitarian Affairs at CARE
The panel will be moderated by John McIntyre, Professor at Georgia Tech's Scheller College of Business.
For more information : FranceAtlanta