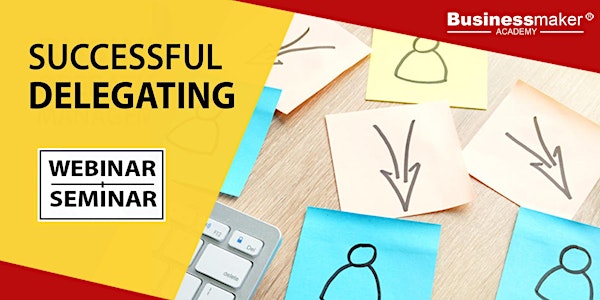 Live Webinar: Successful Delegating Skills
"Systematic Approach to Getting Things Done through Your People in the New Normal"
About this event
Course Description
Every leader needs to learn how to properly delegate tasks, projects and responsibilities to empower his team to get things done. This 1-day course shows you how to do it in a systematic and effective way. It shows approaches, strategies, templates and tools that will help you prepare, communicate, implement, monitor and evaluate your delegation plan. Learn to delegate and follow through successfully.
What you'll learn
At the end of this course, participants will:
-Prepare a simple delegation plan
-Try different templates and tools for effective delegation
-Practice different approaches for delegating and providing instructions and guidelines
-Set up a tracking system to monitor and ensure successful completion of delegated tasks
Course Highlights
1. Delegating Competency for Leaders
2. Types of Delegators
3. Delegation Parameters: To Delegate or Not to Delegate?
4. Micro-managing vs. Macro-managing
5. Preparing Your Delegation Plan
6. Essential Components for Delegating
7. Anatomy of a Delegation Plan
8. Twelve Rules for Successful Delegating
9. Effective Ways to Communicate and Delegate
10. Communication Approach when delegating
11. Communicating Goals, Plans, Action Steps, Responsibility and Accountability
12. Giving Instructions and Providing Feedback
13. Implementation and Monitoring System
14. Delegation Chart Template & Follow Up System
15. Digital Tools for Scheduling and Monitoring
16. Deadlines, Check-ins, Completion & Wrap Up
Who Should Attend?
Managers, Supervisors, Team Leaders, Project Coordinators or any person responsible for getting things done with the assistance of other people.
For more information, you may contact us through:
(632) 7957-7937, 7577-9211
(0917) 6372471, (0912) 2231826
info@businessmaker-academy.com
www.businessmaker-academy.com