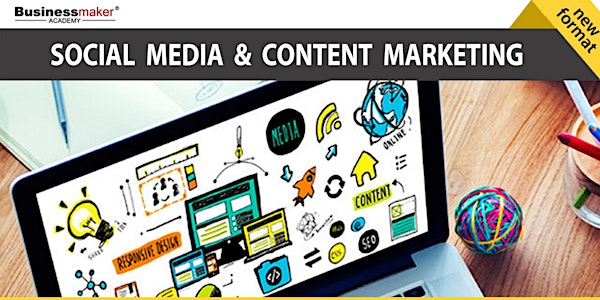 Live Webinar: Social Media & Content Marketing
"How to Market Effectively Through Social Media in the New Normal"
Refund Policy
Contact the organizer to request a refund.
About this event
Course Description
Coronavirus is changing the behavior of our target audiences in the digital world. As daily routines changed overnight, more of people's daily and work lives shifted to online. Social media became an even more important tool for connection. We're living in a time where consumer spending has limited itself to the very essentials. So expecting your online marketing to boost sales right now would be unfair. However, now is a great time to build your online following, put out content that's needed, and grow closer to your current target market. This course offers you the fundamentals of social media and content marketing. It will provide the platforms, measuring tools, tips, and best practices to help you create a social media marketing plan and schedule in the New Normal.
What you'll learn
-Learn how to use social media platforms and their features
-Align the marketing activities of your company to social media platforms
-Create a concrete social media and content marketing plan and schedule
-Know how to generate measurable data to identify the strengths and weaknesses of your marketing plan and how to improve them.
Course Highlights
1. Social Media Trends
2. Benefits of Social Media Marketing
3. Identifying Buyer Personas
4. Building a Keyword Worksheet
5. Your Online Personality & Brand: how to behave and speak to your audience
6. How to Effectively Use Social Media Platforms for Marketing & Sale using Facebook, Linked In, Twitter, Instagram, Youtube
7. Content Marketing Checklist
8. Different Types of Content for Social Media
9. Content Gathering, Producing Your Content, Curating, Outsourcing & User-generated Content
10. Social Media Marketing Plan Template
11 .Content Marketing Schedule
12. How to Measure & Monitor Results
Who Should Attend?
Business Managers, Entrepreneurs, Marketing & Sales Managers or Officers, Online Marketers, Media Planners, PR Officers, Corporate Communications Officers, Business Owners or individuals who wants to use social media as a Marketing tool.
For more information, you may contact us through:
(632) 7957-7937, 7577-9211
(0917) 6372471, (0912) 2231826
info@businessmaker-academy.com
www.businessmaker-academy.com