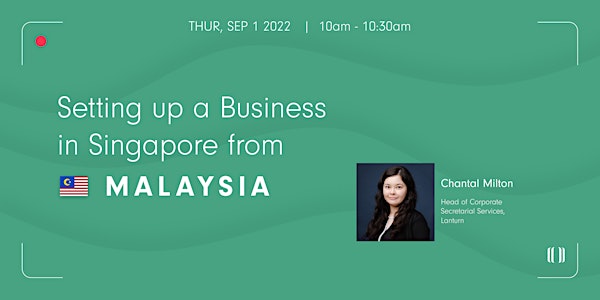 Live webinar: Setting up a business in Singapore from Malaysia
Join us to hear how to start a business in Singapore.
About this event
Setting up a business outside your home country can be a bit difficult. Some things might work back home but wouldn't be applicable in another. Although setting up in Singapore is relatively easy, some rules and regulations may be daunting for first-timers. If you're from Malaysia, this webinar is for you!
Join our very own Head of Corporate Secretarial Services, Chantal Milton, as she shares why Singapore is an ideal place to set up a business and the things you need to know before setting up your business here in the country.
Get to learn about business registration Singapore for free when you attend this event.
About the speaker
Chantal Milton has a degree in Biomedical Sciences from the University of Aberdeen. Following graduation, she had experience as a Medical Surveillance Specialist, Mortgage Advisor and Financial Paraplanner in the UK before joining Lanturn in 2019 as a Corporate Secretary.
Chantal has vast experience in corporate governance, corporate structure, as well as handling and advising funding rounds for Lanturn's clients. She is able to converse in English, Mandarin and Cantonese and now leads the CorpSec Team in managing client work, training and ensuring that all of Lanturn's clients are compliant.
About Lanturn
Lanturn offers UX-driven corporate and fund services for high-growth companies and asset managers. With us, you'll have unparalleled technology and an expert team giving you peace of mind so you can focus on achieving your goals.