Description
Why should you care about Robotic Process Automation (RPA)?
Join us for a live online webinar Monday, May 15th for a special Q & A to find out.
Dial-in instructions:
Monday, May 15, 8-9pm EST
http://bit.ly/515Webinar
+1 (224) 501-3216
---
Find out how you can reboot your career with this highly in-demand technology.
We will be holding our 1 week on-site training on June 5th and on June 12th.
McKinsey & Co. predicts that 45% of jobs today will be automated out of existence in only 20 years.
This info session will tell you all about the exciting opportunities that employers are struggling to fill.
America is crying out for these skills.
And this is just the beginning.
This skills gap is growing by the day.
Find out what this means for you.
And what you can do to boost your career now.
The timing is incredible.
RPA suppliers can't keep up with the demand from customers wanting to buy their product.
RPA is applicable in every single industry and for any function across an organization.
Anyone with proper training is in huge demand.
No technical background is required!
---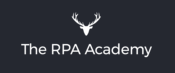 The RPA Academy is making it easy to access RPA expertise and training. Learn live, from experts. Wherever you are in the world.