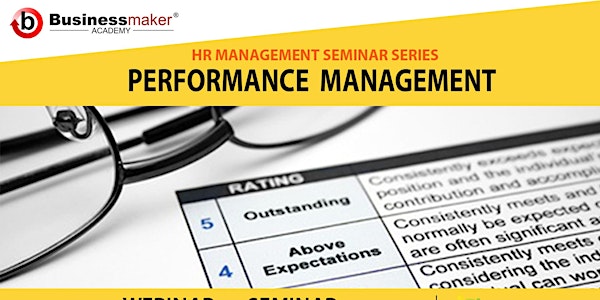 Live Webinar: Performance Management
"How to Manage Employee Performance and Increase Productivity"
About this event
Course Description
This workshop will provide you with the key concepts for managing employee performance and practical guidelines for enhancing both individual and team productivity. It will present various tools and techniques for monitoring your employees' progress to ensure alignment with and fulfilment of your organization's goals. Moreover, this course will enable you to adopt a legally defensible performance management system through proper documentation and fair people management practices.
What you'll learn
-Develop and maintain an effective performance management system for your organization
-Select and develop tools for monitoring, measuring, and communicating employee job performance
-Be able to conduct an effective performance appraisal
-Identify ways of motivating and rewarding outstanding performance
-Adopt appropriate techniques for correcting sub-standard performance
Course Outline
TRACK 1: Overview of Performance Management
A. What is Performance Management?
B. Benefits of Performance Management
TRACK 2: Components of Performance Management System
A. Performance Planning (KRAs & KPIS)
B. Performance Monitoring and Documentation
C. Developing the Capacity of Employee to Perform
D. Performance Rating or Appraisal
E. Rewarding Performance
TRACK 3: Performance Appraisal System
A. Performance Appraisal Process
B. Performance Appraisal Methods
C. Performance Appraisal Form
D. Performance Appraisal Issues & Solutions
TRACK 4: Rewarding Performance
A. Pay for Performance
B. Non-cash Rewards
C. Career Planning & Development
TRACK 5: Correcting Performance Problems
A. Training
B. Coaching
C. Administrative Sanctions
Who Should Attend?
HR Managers, Specialists & Officers; Administrative Managers & Officers; Department Heads; Senior Managers; & Business Owners. Non-HR practitioners are most welcome!
For more information, you may contact us through:
(632) 7957-7937, 7577-9211
(0917) 6372471, (0912) 2231826
info@businessmaker-academy.com
www.businessmaker-academy.com