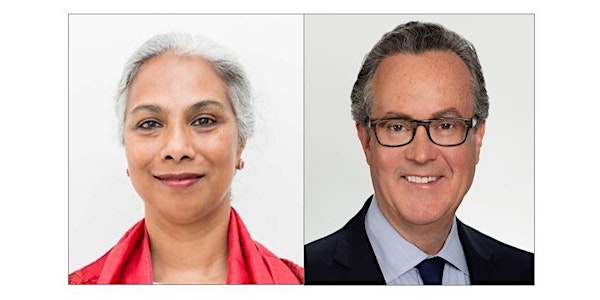 Live Webinar, "Pension Funds and ESG Investing"
(Live Webinar) Conference on Public Pension and Sovereign Funds | Day 1: Pension Funds and ESG Investing*
About this event
Wednesday, November 4, 2020 | 7:00 – 8:00 PM (EST)
Thursday, November 5, 2020 | 9:00 – 10:00 AM (JST)
* Please note, this conference will be held under the Chatham House Rule. The recording of the event will not be made public. This session will be conducted in English.
Featuring:
Anita George, Executive Vice-President and Deputy Head, CDPQ Global
Doug Peterson, President and CEO, S&P Global
Moderated by:
Keiko Honda, Adjunct Professor and Adjunct Senior Research Scholar, School of International and Public Affairs (SIPA), Columbia University; Former CEO of the Multilateral Investment Guarantee Agency (MIGA) of the World Bank Group (Bio)
Opening Remarks by:
David E. Weinstein, Director, Center on Japanese Economy and Business (CJEB), Columbia Business School; Carl S. Shoup Professor of the Japanese Economy, Columbia University (Bio)
Takatoshi Ito, Professor, SIPA, Columbia University; Director, Program on Public Pension and Sovereign Funds, CJEB (Bio)
What you'll learn:
• How pension funds are engaging in ESG investing
• ESG investing and the fiduciary duty of pension funds
• (While data availability/accuracy/comparability is the biggest issue) The roles of ESG indices for asset owners/asset managers, especially pension funds
• The challenges in managing ESG indices
• How to set an ESG data disclosure standard
--> Voluntary vs. mandatory
--> The roles of the regulatory bodies of the E.U., the U.K., the U.S., Japan, and developing countries
About the Speakers:
Anita M. George is Executive Vice-President and Deputy Head of CDPQ Global. She fills a key role in developing CDPQ's activities in its three priority international areas: the United States/Latin America, Europe and Asia Pacific. She actively participates in positioning CDPQ internationally, as well as developing and executing its globalization strategy. In addition to her role managing the international offices, Ms. George contributes to diversifying the portfolio by taking a holistic view in approaching the various markets. She sits on CDPQ's Investment-Risk Committee.
Ms. George joined CDPQ in April 2016 as Managing Director, South Asia. She was then appointed as Executive Vice-President, Growth Markets and prior to her current role was Executive Vice-President and Head of Strategic Partnerships, Growth Markets. She has extensive knowledge of several of these markets, in addition to possessing a strong ability to develop and strengthen enduring and quality partnerships.
She has a strong track record in managing infrastructure investment portfolios on a global scale. Prior to joining CDPQ, she was Senior Director of the World Bank's Energy and Extractive Industries Global Practice. She also held the positions of Director, Infrastructure and Natural Resources of the International Finance Corporation, a member of the World Bank Group, and Head of Siemens Financial Services in India. Her various roles have led her to work in several regions of the world, including Europe, Asia, the Middle East, Africa and Latin America.
Ms. George holds a BA in Economics and Spanish from Smith College, in Massachusetts, and a Masters in Economics and an MBA in Finance from Boston University.
Doug Peterson has served as President, Chief Executive Officer and a member of the Board of Directors of S&P Global since 2013. He joined the Company in 2011 as President of Standard & Poor's Ratings Services.
Mr. Peterson has repositioned S&P Global to power the global capital and commodity markets of the future with transparent, innovative and independent credit ratings, benchmarks, analytics and data. His long-term business strategy for S&P Global focuses on six key priorities essential to the Company's ongoing growth and success: global expansion, customer orientation, technology, innovation, operational excellence and people.
Previously, Mr. Peterson was the Chief Operating Officer of Citibank, N.A., Citigroup's principal banking entity that operates in more than 100 countries. Mr. Peterson was with Citigroup for 26 years. His prior roles include CEO of Citigroup Japan, Chief Auditor of Citigroup, Country Manager for Uruguay, and earlier he served as Country Manager for Costa Rica.
Mr. Peterson is a member of the Boards of Directors of Business Roundtable, the Japan Society, the National Bureau of Economic Research, and is a member of the Council on Foreign Relations, the New York Stock Exchange Board Advisory Council and the U.S.-India CEO Forum. He is co-chair of the World Economic Forum's Stewardship Board of the Platform for Shaping the Future of Cities, Infrastructure and Urban Services. In addition, he serves on the Advisory Boards of the Federal Deposit Insurance Corporation's Systemic Resolution Advisory Committee, the US-China Business Council and the Kravis Leadership Institute, and the Boards of Trustees of Claremont McKenna College and the Paul Taylor Dance Company.
Mr. Peterson received an MBA from the Wharton School at the University of Pennsylvania and an undergraduate degree from Claremont McKenna College.
Admission and Contact:
This is a free event. You must register for the webinar to receive the login details. Participants will receive a link to access the live webinar upon registration.
If you have questions about the event, please contact us at cjeb@columbia.edu. For more information about other CJEB events, visit our website or contact cjeb@columbia.edu.
This is day one of the 5th annual conference of CJEB's Program on Public Pension and Sovereign Funds. The second session will be held on November 19, 7:00 - 8:15 PM.