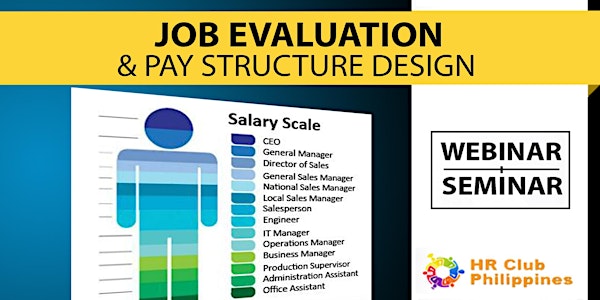 Live Webinar: Job Evaluation & Pay Structure Design
"How to Design Your Company's Salary Structure"
Refund Policy
Contact the organizer to request a refund.
About this event
Course Description
The 2-day program is an in-depth look at the compensation function of human resource management. It includes the fundamental and technical concepts and tools in creating salary structure and programs. The course was designed to help you develop and implement equitable, competitive and cost-effective compensation program for your organization in order to attract, motivate and retain your talents.
What you'll learn
-Understand the basic steps of Job Analysis & Evaluation
-Create a Job Factor Rating Plan
-Use salary market data in designing salary structures
-Develop salary structures based on Job Evaluation results
-Learn the basics of incentive compensation
Course Outline
1. Compensation Management Framework
2. Objectives of Compensation Management
3. Types of Compensation (Base, Benefits, Incentives)
4. Determinants of Financial Compensation
5. Components of Compensation Management
6. Job Analysis
7. Job Evaluation
8. Salary Survey
9. Point Factor Rating System
10. Benchmark Jobs and their Characteristics
11. Ensuring Fairness & Objectivity in the Rating Process
12. Analyzing Salary Market Data
13. Salary Survey
14. Sources of Salary Data
15. Compensation Structure Decisions
16. Salary Structure Development
17. Administrative Issues
18. Salary Structure Maintenance
Who Should Attend?
HR Managers, Finance Officers, Compensation & Benefits Manager, Department Heads, Top Management & Business Owners, or any employee who will represent his group in the Job Evaluation Committee
For more information, you may contact us through:
(632) 7957-7937, 7577-9211
(0917) 6372471, (0912) 2231826
info@businessmaker-academy.com
www.businessmaker-academy.com