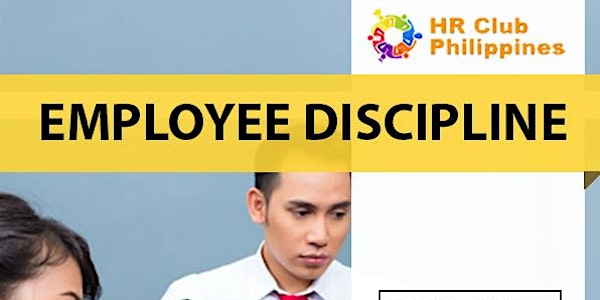 Live Webinar: Employee Discipline & DOLE Compliance
"Creating a Culture of Positive Employee Discipline"
About this event
Course Description
Most employers in general prefer not to discipline their employees because it is unpleasant. Nevertheless, having a disciplinary policy in the workplace is indispensable. Discipline is important because employers expect a certain type of behavior from their employees at work. Employers cannot achieve the goals they set out if their employees are problematic and cannot be relied upon to deliver productive outcome.
With this in mind, we are faced with the following questions:
…How do you set up a system where it is fair, just and legal for both employers & employees?
…What tools or documents are needed to effectively implement employee discipline?
…How do you correct and manage employees in a positive and objective manner?
…What is the legal process for dealing with resignations, dismissals and terminations?
…How do you solve employee problems effectively?
What you'll learn
-Learn how to establish a culture of Positive Employee Discipline
-Build an employee discipline system that drives excellent work performance
-Observe legal processes on disciplinary actions and employee dismissals
-Explore common behavior issues and adopt best practices in employee discipline
Course Outline
Track 1: Basics of Employee Discipline
A. Discipline in the Workplace
B. Benefits of Workplace Discipline
C. Common Behavior Issues
D. Characteristics of Effective Discipline
E. Difficult Employees
Track 2 : Legal Perspective of Employee Discipline
A. Legal Framework
1. Management Prerogative
2. Security of Tenure
3. Regular vs. Non-regular Employees
4. Due Process
B. Employee Handbook
Track 3: Legal & HR Processes of Resignation & Termination
A. Terminating Employees
1. Just Causes for Termination
2. Legal Way of Termination
3. Authorized Causes for Termination
4. Consequences of Illegal Termination
5. Basic Tips on Preventing DOLE Complaints
B. Managing Employee Resignation
A. Voluntary vs. Forced Resignation
Track 4 : Human Resource Perspective of Discipline
A. Building Excellent Work Performance
1. The Role of Supervisor
2. Coaching & Counselling
3. Positive Contacts & Rewards
4. Performance Improvement Discussion
B. Performance Evaluation
C. Progressive Approach to Discipline
Track 5 : Establishing an Employee Discipline System
A. Administration of the Discipline System
1. Elements of Administration
2. Policy Matrix
B. Creation of the Positive Discipline System
1. Executive Overview Agenda
2. Duties of the Implementation Team
3. Management Training
4. Building Management Commitment
5. Measuring Effectiveness
6. Maintaining the Discipline System
Who Should Attend?
Human Resource Professionals, Manager, Supervisors, Officers, Consultants, Business Managers and any person who want to learn how to learn the legal and practical way of conducting employee disciplinary procedures.
For more information, you may contact us through:
(632) 7957-7937, 7577-9211
(0917) 6372471, (0912) 2231826
info@businessmaker-academy.com
www.businessmaker-academy.com