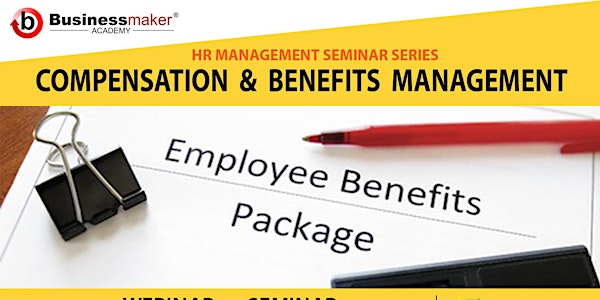 Live Webinar: Compensations & Benefits Management
"How to Develop an Effective Compensation and Benefits Program for Your Employees"
About this event
Course Description
This course will guide you in designing and managing a comprehensive compensation and benefits program which is geared towards motivating and retaining your good employees. You will likewise learn the essential processes in compensation, such as job analysis, job evaluation and payroll.
What you'll learn
-Explain the basic principles, objectives and components of an effective compensation management
-Learn the competencies, duties and responsibilities of Compensation and Benefits Officer
-Calculate the different payroll components
-Learn how to design an equitable and competitive salary structure and benefits package, using job evaluation and salary benchmarking
Course Outline
Track 1: Compensation & Benefits Overview
A. Components of Compensation Management
B. Compensation Philosophy
C. Compensation Administration Process
Track 2: The Compensation & Benefits Officer
A. Roles & Functions
B. Competencies
Track 3: Essentials of Compensation & Benefits Management
A. Payroll Administration
B. Types of Compensation
C. Primary Determinants of Compensation
Track 4: Salary Management
A. Introduction to Job Evaluation
B. Basic Salary Structure Design
Track 5: Benefits Management
A. Mandatory Benefits
B. Company-sponsored Benefits
C. Employee Services
Who Should Attend?
HR Managers, Specialists & Officers; Payroll Officers, Administrative Managers & Officers; Department Heads; Senior Managers; & Business Owners. Non-HR practitioners are most welcome!
For more information, you may contact us through:
(632) 7957-7937, 7577-9211
(0917) 6372471, (0912) 2231826
info@businessmaker-academy.com
www.businessmaker-academy.com