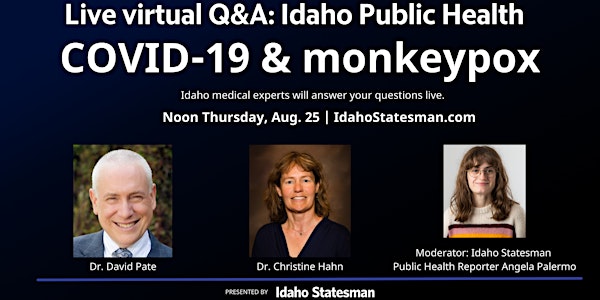 Live, virtual Q&A: Idaho Public Health: COVID-19 & monkeypox, what's next
Got a question about COVID-19? You can ask our panel of Idaho medical experts in advance.
About this event
Note: Because of a scheduling issue with our panel, this event is rescheduled from Aug.17.
Public health continues to be a challenge in Idaho and the nation. Coronavirus still is infecting people, and even though it may seem like it's business as usual, medical experts still advise caution as we enter the cooler fall months, and kids head back to school.
And now, outbreaks of monkeypox are making headlines as that viral infection hits emergency levels around the country. Though there are only a few cases in Idaho, concern about the painful infection is high.
So, we're calling on our expert panel for a Live Q&A to offer their expertise and answer your questions.
Idaho's Medical Director of Public Health Dr. Christine Hahn and former St. Luke's CEO and author Dr. David Pate will bring us up to date on where Idaho is in the fight against the coronavirus, what the state is doing on the monkeypox front, and they'll ponder where the next public health threat could come from.
Register here and ask your question in advance.