Science in the City is back online and just a click away! See robots, performances, music, nutrition, mental health and more!
About this event
Tune in to be a part of Science in the City on the 24–25 September from wherever you are. Our virtual program includes the same exciting variety of events that has come to define Malta's largest Science and Arts festival, except this time, we're bringing the magic to you.
Our theme this year is Sowing Seeds, because we want to encourage citizens to take an active role in shaping our future and the future of our planet. Train the System will explore how can 3D-generated faces help train algorithms and what it means for the general population. Għajn: a puppet show will creatively explore how we use water, and ways to protect this vital resource. In Our Warming Seas you'll see stunning videos of Malta's waters, and hear from experts about the changes that are happening in the seas around our islands. The Green Mental Health Routine will discuss how time in nature can contribute to better mental health.
As a special feature for this year, award-winning British comedy-science-singer-songwriter John Hinton will be performing a live music show inspired by the work of Nature Trust. His high-energy set: "Now that's what I call a lot of songs about science", will have you in stitches. The ever-popular SharkLab will be back with a show revealing the secrets of the misunderstood fish circling the Maltese Archipelago.
For something a bit different, join us for Meet the Body Builders, a show created by prosthetics-designers MAproHand. Contemplate how you would design a hand, and watch the process as ideas come to life.
To see what else we have in store, view our full virtual program below or here. Book your space now to make sure you don't miss out.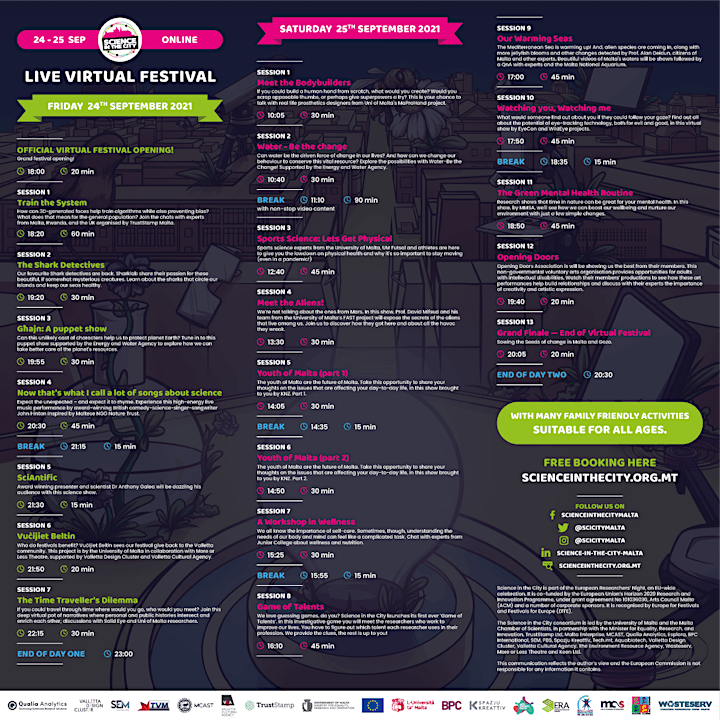 Find out about our other events
This event is part of the Science in the City Festival running between the 24–25 September. Check out our website for our pre-Festival Events, Live Virtual Festival, Real World Festival in Valletta, and Explore the Arches content.
For the full programme of events, head to the website and our FB events tab.
For regular updates please follow our Science in the City social media pages:
Facebook: ScienceInTheCityMalta
Twitter: @SciCityMalta
Instagram: @scicitymalta
LinkedIN: Science in the City
Science in the City is part of the European Researchers' Night, an EU-wide celebration. It is co-funded by the European Union's Horizon 2020 Research and Innovation Programme, under grant agreement No 101036030, Arts Council Malta (ACM) and a number of corporate sponsors. It is recognised by Europe for Festivals and Festivals for Europe (EFFE).
This communication reflects the author's view and the European Commission is not responsible for any information it contains.
We invite your feedback
We partner with Qualia Analytics (qualiaanalytics.org), a research coordinator and data processor, to help us gather important feedback about the Science in the City 2021 festival. When you book to attend this Science in the City 2021 festival event, we would like to invite your thoughts and views before and after you attend any festival events. For this purpose, we have authorised Qualia to send you an automatic invitation using the email provided at the time of your event booking, and then again after the festival ends.
To show our gratitude we will automatically enter you in a prize draw with the opportunity to win one of five €10 cash prizes. Your responses to this research will help us to better understand the diversity of those attending the Science in the City 2021 festival. We will use the information you provide to improve our programmes, services and experiences for other festival attendees like you. Your participation in this research, and any personal information you provide, is voluntary (you may withdraw at any time). Responses will be automatically anonymised prior to external reporting.
We are compliant with the General Data Protection Regulation (GDPR). You may contact us if you have any questions about the research we are conducting for the Science in the City 2021 festival, please email info@scienceinthecity.org.mt
Organizer of Live Virtual Festival — Science in the City 2021