Live Video Chat: Are you eating genetically modified food? What GMOs mean for our health, environment & food supply

Tuesday, November 15, 2011 at 11:00 AM (PST)
Event Details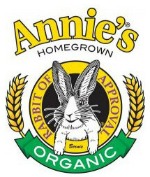 15 years ago, scientists wielding gene guns got ahold of our basic food crops like corn and soy and started injecting them with agrichemical ingredients never before used in corn and soy.  Countries around the world said either "No way!" or "Label them" while here in the US, GMOs were introduced without our knowing it.  In this free live chat with Robyn O'Brien, Author of The Unhealthy Truth and Chuck Benbrook, Chief Scientist at the Organic Center, you'll have the chance to hear and talk about:
•    What is biotechnology?
•    Top genetically modified crops and where to watch for them
•    The connection between GMOs and health, including new information about allergies
•    Where you can find more information and resources 
•    How to take action on labeling
To attend this free live chat, register above to get a reminder, or just hop over to annies.com/livechat on Tuesday, 11/15 at 11:00am (PST)
Join Annie's on Facebook - Follow Annie's on Twitter
Have questions about Live Video Chat: Are you eating genetically modified food? What GMOs mean for our health, environment & food supply?
Contact Annie's Homegrown
When & Where

http://www.annies.com/livechat/




Tuesday, November 15, 2011 at 11:00 AM (PST)
Add to my calendar
Organizer
Annie's Homegrown

For more than 20 years, Annie's has been nourishing families with simple, down-to-earth foods that taste great and are easy to love.  Annie's is driven by a team of folks who are passionate about food, people, and the planet we all share. That's why we've sought out the best ingredients Mother Earth has to offer, harvesting pure, natural flavors to make delicious foods every family can feel good about.