Description

At the 2019 Live Unreal Retreat you will spend two and a half days immersing yourself in everything you need to know and do to control the listing taken inventory in your market, all the while closing more buyer sales. What started as Jeff's event exclusively for his team, has now been opened to the public. Why would Jeff do this? The answer is simple...Jeff's passion for training and coaching others to accomplish what he and his team have accomplished has exceeded all other passions of Jeff's. Jeff believes in living an UNREAL and an ABUNDANT life and wants everyone he comes in contact with to do the same.
For the the first time ever, during this action-packed business building event, Jeff is going to show you EXACTLY what he and his team do to average over 75 listings taken per month! Jeff and his expert panelists and speakers will be walking you through all phases of what it takes to take market share through listing more property! Everything from the initial lead generation to the lead conversion to the presentation and follow up after the presentation will be covered...from start to finish! Also, for the first time since Jeff has been selling Real Estate (16 years), he will be conducting a LIVE Listing Presentation from the stage as well as handling REAL audience objections LIVE! So whether you are a solo agent, leading a team or an agent on a team you DO NOT want to miss this event. Prefer working with buyers? Jeff and his team of experts will be sharing their leverage system used to master working with both BUYERS and SELLERS while still generating more listing leads!
Unlike the others, Jeff is the ONLY Real Estate Sales and Business coach that is selling over 100 homes a year PERSONALLY (and has now for ten years) and he is prepared to share with you how he does it. While most are touting something they accomplished ten years ago or even worse never at all, Jeff is walking the talk each and every day with his team. Come see why no other trainer on the circuit today is doing what Jeff is doing.
Oh and don't forget, we get to have some fun too in one of the most gorgeous resort towns in the country, Traverse City, MI! We have pre-arranged organized activities for you to take advantage of (ala carte) on Sunday since we know many of you are coming in for the weekend! And yes, like all of our Retreats, we will have a Welcome Party on Monday evening overlooking the gorgeous Traverse Bay and tropical blue waters of Lake Michigan!

Full Ticket Registration (Includes Party) Available until July 1st: $249.00
Last Minute Ticket Registration (Includes Party) Available until July 15th: $299.00
Refunds available until 7 days prior to the event


SUNDAY, JULY 21st
1:00-5:00 Explore TC through Excursions
6:00-8:00 Glover U Client Party (Invite Only)
9:00-9:30 Welcome & Opening
9:30-10:30 Finding Your True North with Matt Sutter
11:00-12:00 Listing Mastery Part One - Listing Lead Generation and Lead Conversion
1:30-2:30 Listing Mastery Part Two- Preualifying and Presentation Preparation
2:30-3:15 Top Producer Panel- Generate Massive Listing Leads
3:45-4:15 One-on-One Interview with KW's #1 Agent Lance Loken
4:15-5:15 Lead Generation Masterminds
7:00-10:00 Glover U Welcome Party
8:00-9:00 Coffee with Glover U Coaches
9:00-9:30 Model Your Way to Success with Kathy Schweitzer
9:30-10:00 One-on-One Interview with Kathy Schweitzer
10:00-10:30 One-on-One Interview with Martin Bouma
11:00-12:00 Listing Mastery Part Three- Value Proposition and Playing to Your Strengths
1:30-2:30 Listing Mastery Part Four - Listing Presentation Live
2:30-3:15 Top Producer Panel - Win Every Listing Presentation
3:45-4:15 1-1 Interview with Seychelle Van Poole
4:15-5:15 Listings and Sales Masterminds
7:30-10:00 Explore Downtown Traverse City

WEDNESDAY, JULY 24TH
8:00-9:00 Coffee with Jeff Glover
9:00-9:45 Learn How to Take More Listings by Delivering Jaw Dropping Customer Service with Peter Chabris
9:45-10:15 1-1 Interview with Carin Nguyen
10:45-11:30 Listing Mastery Part Five - Handling Objections and Closing
11:30-12:00 7 Ways to Kick A$$ in the Second Half
For more information or descriptions on each session, visit www.liveunrealretreat2019.com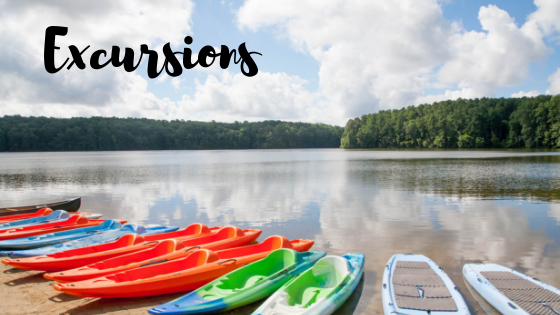 Join us on Sunday, July 21st to explore Traverse City! Choose one of the three excursions to add on to your trip at a reduced rate.
Kabrew: Cost $175 per person. During this 3-4 mile guided tour that extends four hours, enjoy a mixture of biking, kayaking and of course brews! We will start at the bike shop on Garland street and visit Right Brain, The Filling station, Rare Bird and The Workshop. Price includes bus to location, kayak, bike, guide and gratuity.
TC Wine Tour: Cost $125 per person.
During this four hour long wine tour, you will visit
some of Traverse City's most popular wineries including Chateau Chantal, Bowers Harbor and Bonobo. Price includes bus to and from wineries and an average of 5 tastings at each winery.
Golf at the Wolverine: Cost $125 per person. Enjoy 18 holes on the beautiful Wolverine

golf course. Tee times begin at 12:03pm and will run every 9 minutes until 12:48pm.