Description
Time and time again, studies show that one critical mistake organizations make is allowing supervisors to try and "wing it" without giving them the training they need to be successful.
We promote people to those positions often without any preparation. It is as if, by giving them the title, we have imbued in them all the skills they need to have. Without the training what do they fall back on?
New leaders need foundational skill-building, and experienced leaders require reinforcement or a reset, especially when faced with extraordinary challenges or organizational changes.
An unskilled manager can have a detrimental effect on the employees he or she manages. The impact of poor management on the team include decreased morale, poor communication, worker dissatisfaction, and a general decrease in efficiency and production within the department. This hurts the entire company.
That's why this 3-hour leadership training is a not-to-be-missed event for any supervisor or manager.

----- ----- -----
New Supervisors - Often you move into a new leadership role because you are good at your existing job and get promoted. As you take on the new position you will be meeting new challenges and taking on new responsibilities. How you perform in your first position as a supervisor is critical to your professional future, so it's natural to want to be the best you can be.
Seasoned Supervisors - If you are an existing supervisor, this is a great refresher course. Every seasoned supervisor can learn new tips and tricks to become even better moving forward.
----- ----- -----
At this workshop, regardless of your experience level as a manager or supervisor, you'll gain the solid skills and supervisory "how-to's" you need to influence others to go that extra mile! You will learn how to establish a direction for your team and align them toward the company's goals, motivating and committing them to action and making them responsible for their performance.
You'll leave knowing how to:
Gauge and improve your interpersonal communication styles and emotional intelligence.

Be more self-aware in your leadership style.

Communicate effectively with your team to motivate and inspire them to action.

Build trust and influence within your organization through candid and authentic conversations.

Organize and plan how to divide your time between specific activities enabling you to work smarter so you get more done in less time.

Set goals and hold your team and yourself accountable through effective meetings to reach those goals.

Effectively recognize and reward your team to build trust and an emotional bank account.


Who Should Attend:
This workshop is best suited for those new to a supervisory or management role, or those looking to become supervisors or managers. It is also a great refresher course for established supervisors looking to build their leadership skills.
Our Expert Speakers: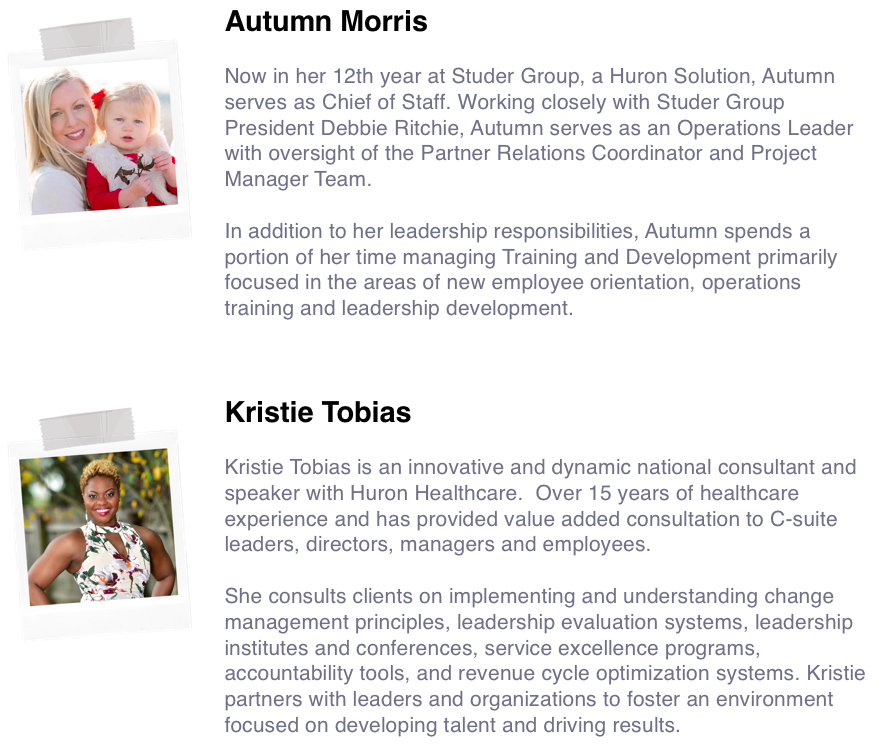 Additional Details:
Please bring a printed or digital copy of your ticket with you on the day of the workshop.

Water, coffee, and a snack will be provided.

If you would like to inquire about accessibility/request an accommodation, please contact Morgan Milbradt at mmilbradt@studeri.org at least one week in advance of the workshop.

HR professionals are eligible to earn 2 PDCs for SHRM-CP or SHRM-SCP (Activity 20-UESVA).
Group Discounts and Sponsorship Opportunities Available:
We believe learning together as a team is important to overall organizational success, which is why we offer small (5-9 attendees 10%) and large (10-14 attendees 15%) and extra-large (15+ attendees 20%) group discounts. Please email Morgan Milbradt at mmilbradt@studeri.org for more details.
In addition, we also offer the opportunity to sponsor a live training. Being a workshop sponsor provides you with extensive brand visibility, putting your brand assets in front of an audience of 20-150 people, and gives you an opportunity to make personal connections with attendees during and after the event.
Stay in the Loop:
Want to be notified of future live workshops as soon as they're released? Sign up to receive our emails.