L.I.V.E. Summer Camp

Tuesday, August 13, 2013 at 10:00 AM

-

Saturday, August 17, 2013 at 2:00 PM (CDT)
Event Details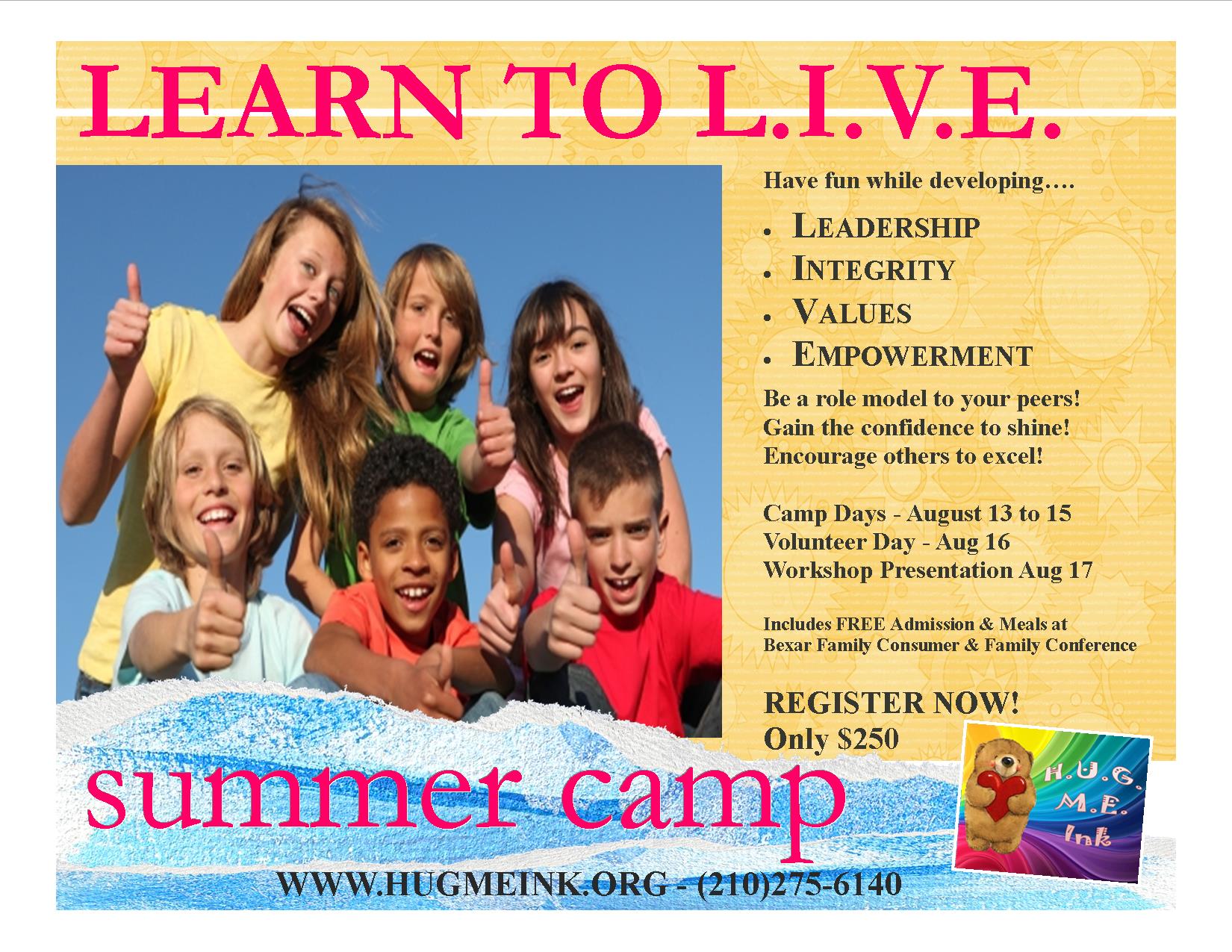 First 10 HMI Cast Members get to attend FREE so hurry and REGISTER NOW!
EARLY REGISTER BY JUNE 30th & SAVE $50 !!!!
The L.I.V.E. Summer Camp is geared for kids between 12 and 17 years old. During the Summer Camp, they will learn about Leadership, Integrity, Values, and Empowerment regarding Mental Health.

The camp day activities include classroom curriculum on youth mental health, bullying and removing stigma as well as an evening field trip to watch H.U.G. M.E. Ink's new film "Manchester High: Nobody Heard Me Cry" at the mental health focused Bexar Consumer & Family Conference.

For the volunteer day, the kids are stimulated to apply their classroom learning by assisting staff and attendees at the Bexar Consumer and Family Conference.

At the end, we are going to have a Workshop where the kids will share their knowledge about youth mental health with conference participants through discussion about H.U.G. M.E. Ink's new film. 

Times:

Camp Days Aug. 13 to 14 from 10am to 5pm (lunch provided) and Aug 15 from 4pm to 9pm (dinner provided)
Volunteer Day (Aug 16) 8am to 5pm (lunch provided)

Workshop Presentation (Aug 17) from 8am to 2pm (lunch provided)

Contact information are Taila Oliveira by email marketing@hugmeing.org and by phone, Sharon Luna 210 275-6140

Locations:
303 Pearl Parkway, Suite 114, San Antonio, TX 78215 on Aug 13 & 14th and
110 Lexington on Aug 15-17
REGISTRATION ENDS: JULY 31st
When
Tuesday, August 13, 2013 at 10:00 AM

-

Saturday, August 17, 2013 at 2:00 PM (CDT)
Add to my calendar
Organizer
H.U.G. M.E. Ink
WANT TO BECOME A MEMBER?
YOU CAN REGISTER ONLINE AT
http://hmidonationandmembership.eventbrite.com/
Please use today's date as event date
OR COME IN PERSON TO
Our next membership meeting
Date: Saturday, October 19, 2013
Time: 11am - 12noon
Place: Tripoint
           3233 N St Mary's St
           San Antonio, TX 78212
H.U.G. M.E. Ink is a nonprofit working to de-stigmatize mental illness by educating on mental health through entertaining via theater, film, poetry, literature, music & the arts. We aim to empower by informing the community on available mental health care resources. www.hugmeink.org