Description
In line with the new coronavirus situation, we offer our yoga teacher training with a combination of live stream classes and offline practice at our studio with flexible timing to be able to continue to offer you the chance to deepen your practice and expand your knowledge in relation to the practice of Yoga.
Often, people have the preconceived notion that only advanced practitioners are qualified to join a teacher training program but that couldn't be further from the truth!
Yoga is not about being able to execute asanas perfectly or solely about the physical aspect - it is also about nurturing and strengthening your mind-body connection, gaining compassion for ourselves and others, and maintaining our well-being.
Your practice is yours to lead, and with the help of our very experienced, knowledgeable and compassionate teachers, we can guide you in transforming your practice and knowledge of yoga.
CONTENTS
Technique Training & Practice in Asanas, Pranayama, Mudra, Bandhas, Kriyas Cleansing Processes, Chanting, Mantras & Meditation

Lectures on Yoga Philosophy - Hatha Yoga, Ashtanga Yoga (Yama, Niyama, Asanas, Pranayama, Pratyahara, Dharana, Dhyan & Samadhi), Yoga Sutras by Patanjali, Hatha Yoga Pradipika, Karma Yoga (Bhagvad Gita), Kundalini & Chakras, Nadis.

Anatomy & Physiology - A basic knowledge of various body systems. Functioning of various organs and other systems that are affected by yoga practices. Health benefits of yoga techniques, precautions/contraindications are covered in these lectures and also in practical Yoga sessions.

Yoga Lifestyle - Applications of Yoga, Yoga for back problems, stress, digestive disorders, pre & postnatal yoga, etc.

Sanskrit training includes Chanting, Mantras Asanas, Pranayama, and other Yoga words.

Yoga Teaching Methodology includes session/lesson planning, Injury Prevention, Alignment principles in Yoga poses, educational techniques to teach principles of Yoga, practicum in teaching yoga, understanding, correcting, assisting, encouraging, caring and guiding the progress of students in yoga. Programs include ethical guidelines or ethics for a Yoga teacher.
Asanas in Traditional Hatha Yoga and Hatha Vinyasa.

Assessment for Practical Training, Theory Assignments on Anatomy & Physiology, Ashtanga Yoga, Teaching Methodology and Individual Education
SCHEDULE
1. Theory Livestream:
- Livestream theory during Circuit Breaker Orange - 18th April extended to 10th May on Saturday and Sunday 1:00 - 5:00 PM

2. Practicum:
- Practicum in the Studio on weekends, Saturday and Sunday from 15th May - 21st June 2020 10:30 AM - 5:00 PM

OR

- Practicum in the Studio on weekdays, Wednesday and Thursday from 18th May - 21st June 2020 10:30 AM- 5:00 PM
BENEFITS
Introducing the techniques of breathing (pranayama) and its related importance in reducing stress and increasing immunity.

Deepening the practice of asanas by improving strength, stamina, and flexibility.

Creating more body awareness and brings focus to aspects of the body that requires more attention, compassion, and healing.

Providing alternative (and more natural) cleansing methods to remove the build-up of toxins in your mind and body.

Self-assessment tools that help to modify lifestyle and diet to better suit different body types.

Learning more about the best alignment and positions of each asana in-relation to the body to reduce the chances of injuries.

Expanding your knowledge and share this valuable information with friends, loved ones and the people around you.

Encouraging one to build more self-confidence and speak the truth.

A journey of transformation in Traditional Indian Yoga and a taste of Modern Hatha Vinyasa.

Setting a strong foundation with a comprehensive library.

A diploma is certified by Yoga Certification Board (YCB) India from Indian Government with a lifetime membership.

Graduates have the opportunity to take up specialized courses.

- Yoga Health and Wellness Course.

- Children Yoga Teacher Training.

- Pre & Post Natal Yoga Teacher Training.

- Advanced Yoga Teacher Training.

- Yin Yang Yoga Teacher Training.
TEACHERS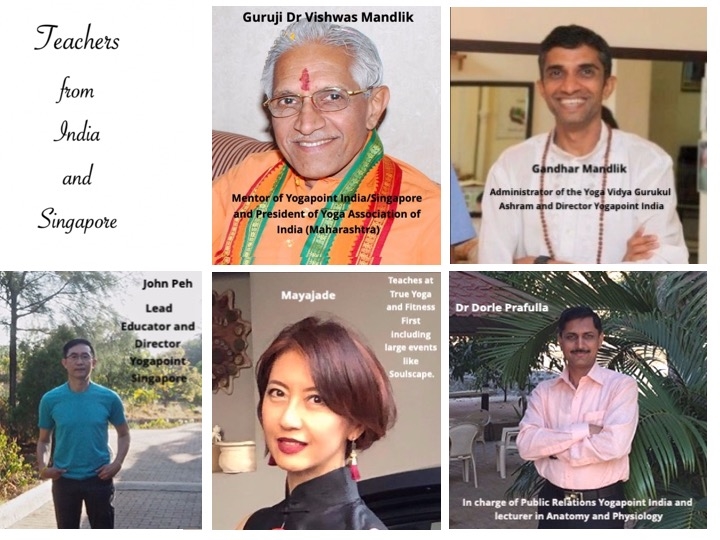 INVESTMENT

Course Fee April 2020 Intake: $2280 (early bird $1995, before 14th April 2020).

An installment plan can be arranged.

You can make a deposit of $300 to confirm your participation.

The fee paid is not refundable but transferable for other courses.

Fees include books, neti pot, printouts, free practice at the studio, and guidance.

If you have any queries, feel free to contact John at +65 97844058.

Or visit our website: https://bit.ly/2VpHNPd.
https://bit.ly/2vphnpd