LIVE Stream Viewing of Master Recruiting Go Pro Event (Eric Worre, Tony Robbins, Robert Kiyosaki, Rob Proctor)

Friday, October 16, 2015 at 9:00 AM

-

Saturday, October 17, 2015 at 12:00 PM (PDT)
Event Details
Be apart of this Mastermind Momentum Movement in the NW! You are going to surround yourself with powerful and empowering people. Let's all each one reach one in our quest to building leaders to help grow the entreprenurial world! Participate in this life trasformation event that will help you make that "Breakthrough"!
If you have any questions feel free to reach out to me. See people live at the office Thu, Fri, & Sat.

Go Pro Recruiting Mastery has become THE annual event for people in our Profession to improve their skills and prepare to make the next 12 months the best of their lives. This year is no exception. In fact, the event will certainly be sold out with a maximum capacity of approximately 8,000 people which will make it the largest event of its kind in Network Marketing history.
Over 100 million dollar a year earners and over 1,000 six figure a year earners will be in attendance. In addition, over 500 company executives will participate in an effort to gain insight on what the most successful field leaders are doing to produce such amazing results. It's literally a who's who of Network Marketing success.
You'll enjoy a total of 24 full hours of world-class learning over the course of four days. I assure you, this is the most value filled event ever held in our Profession.
Let me explain what you can expect from the training. I will personally deliver approximately half of the total training and will focus giving you an in-depth look at the seven fundamental skills every Network Marketing distributor should master. There will be a lot of role playing, experiential exercises and information that will take what you've already learned from the book "Go Pro" and bring it to life. I can't wait and I promise to bring you my best.
In part of the other 12 hours you will learn from a line up of Experts in Network Marketing and the group that really excites me is the Million Dollar Earners and rising stars. The most incredible line up of Network Marketing wisdom ever assembled.
You'll enjoy a total of 24 full hours of world-class learning over the course of four days. I assure you, this is the most value filled event ever held in our Profession.
I'm hosting two panel discussions this year. One will be a "Legends Panel" with people earning over $25 million in career commissions and the other will be an "Under 30 Panel" with some young rising stars in the Network Marketing Profession. It's going to be amazing.
The content from all of these guest presenters will be the best ever offered in Network Marketing history. I'm so excited to bring all of them to you and I'll be sitting there taking notes like everyone else.
More information at: http://networkmarketingpro.com/2015/us/ PST
Attendee List
Sort by:

Date

|

First Name
When & Where

BE Your DREAM Office
2205 N Lombard
Portland, OR


Friday, October 16, 2015 at 9:00 AM

-

Saturday, October 17, 2015 at 12:00 PM (PDT)
Add to my calendar
Organizer
"Design Destiny Into Realtiy!" That is the motto of Team Be Your Dream! My name is Sourixay Vilalay aka "S.V." The goal is to inspire people to go after their passions and live the life they've always wanted!
I realized that I don't want to work a "job" for the rest of my life so am passionately building networks, encouraging teamwork, as that what makes the dream work!
Come on out and participate to also achieve your dreams made-come true!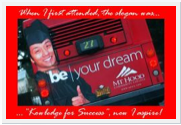 What people need is an opportunity where they can legitimately prosper from their efforts. They need true enterprise.
Wisdom is applying the right principles at the right time. Is learning from experience, and, of course, the best experience is someone else's.
+ This saves time and headache. Wisdom is the only way off the time and/or relationship train wreck. 
There is nothing so painful and debilitating as a broken heart, hurt feelings, and relational conflict. 
+ Wisdom means understanding the power of leverage in your financial life. 
+ Leveraging a system to do the work for you is one of the wisest ways to go about putting effort into something.
"You don't have to be great to get started, but you have to start in order to become great."