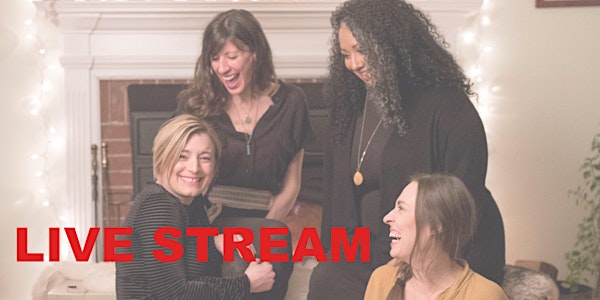 Live Stream of The Cold River Radio Show
The Cold River Radio Show Features Award Winning New England based Artists, Performers, Storytellers, Comedians, and Best Selling Authors.
About this event
THIS IS A LIVE STREAM OF THIS EVENT, TO PURCHASE IN-PERSON TICKETS CLICK HERE.
This Cold River Radio Show Features the return of The Amarantos String Quartet, their performance will take you from the romantic era to contemporary popular music. The group was formed in Portland, Maine with the mission to reinvent the role of the string quartet in the modern cultural landscape. Through presentation of new music, unique collaborations and original arrangements the group is attracting new, diverse audiences to the chamber music genre. Classically trained, each member of the quartet has also performed extensively with musicians from a wide variety of styles such as rock, pop, folk, world, and more. We are thrilled to invite them back to our stage to join forces with the Cold River Radio Band and also perform a few of their own special selections.
Singer/Songwriter Cormac McCarthy has performed nationally on many stages including three times at the Newport Folk Festival, twice on NPR's Mountain Stage Live Radio Show, Boston's WUMB Folk Radio 10th anniversary celebration, headlined at the Night of Humor and Songwriters and American Troubadours with Eric Andersen and Townes Van Zandt at Boston's Somerville Theater, Ben & Jerry's One World, One Heart Festival, Falcon Ridge Folk Festival and more. McCarthy has recorded 5 highly acclaimed albums and is working on a new one.
Author Jen Dupree is a librarian, assistant editor for The Masters Review, and former independent bookstore owner. She has an MFA from the University of Sothern Maine's Stonecoast program. Her novel, The Miraculous Flight of Owen Leach debuted in April of 2022. Her stories and essays have been published or are forthcoming in Be Wilder: A Word Portland Anthology, Solstice, December, The Masters Review, The Lascaux Review, and other places. She has won a Maine Literary Award for both short non-fiction and short fiction (2022, 2006) as well as the Writer's Digest fiction contest (2016).
Local Spotlight Chris Schalick is a North Conway area gigging, multi-instrumentalist musician performing solo and with cover and all originals bands Chris Schalick and the Automatics, Dandelion Surfers, Mystery Machine, the Blue Birds, Sonny Sunshine and the Starfish, and The Holy Grail. His focus is rhythmic, fun loving, chill, groove music that adds a danceable twist on crowd favorites from the 60's through the 2000's. Chris hosts and participates in open mics around New England and performs in a variety of venues throughout Southern Maine, the Boston area, New York and Connecticut. He is currently focusing on pre-production for his fourth solo album.
Host Jonathan Sarty and His Fabulous Cold River Radio Band: David Mattacks on Drums (Jethro Tull, Fairport Convention), Todd Baker on Double Bass, Mike Sakash on Soprano Sax, and Joseph (Sonny) Barbato on Piano.