Live Spiritual Webcast of Gurupoornima Retreat 2013

Monday, July 22, 2013 at 7:00 PM

-

Sunday, July 28, 2013 at 10:00 PM (EDT)
Event Details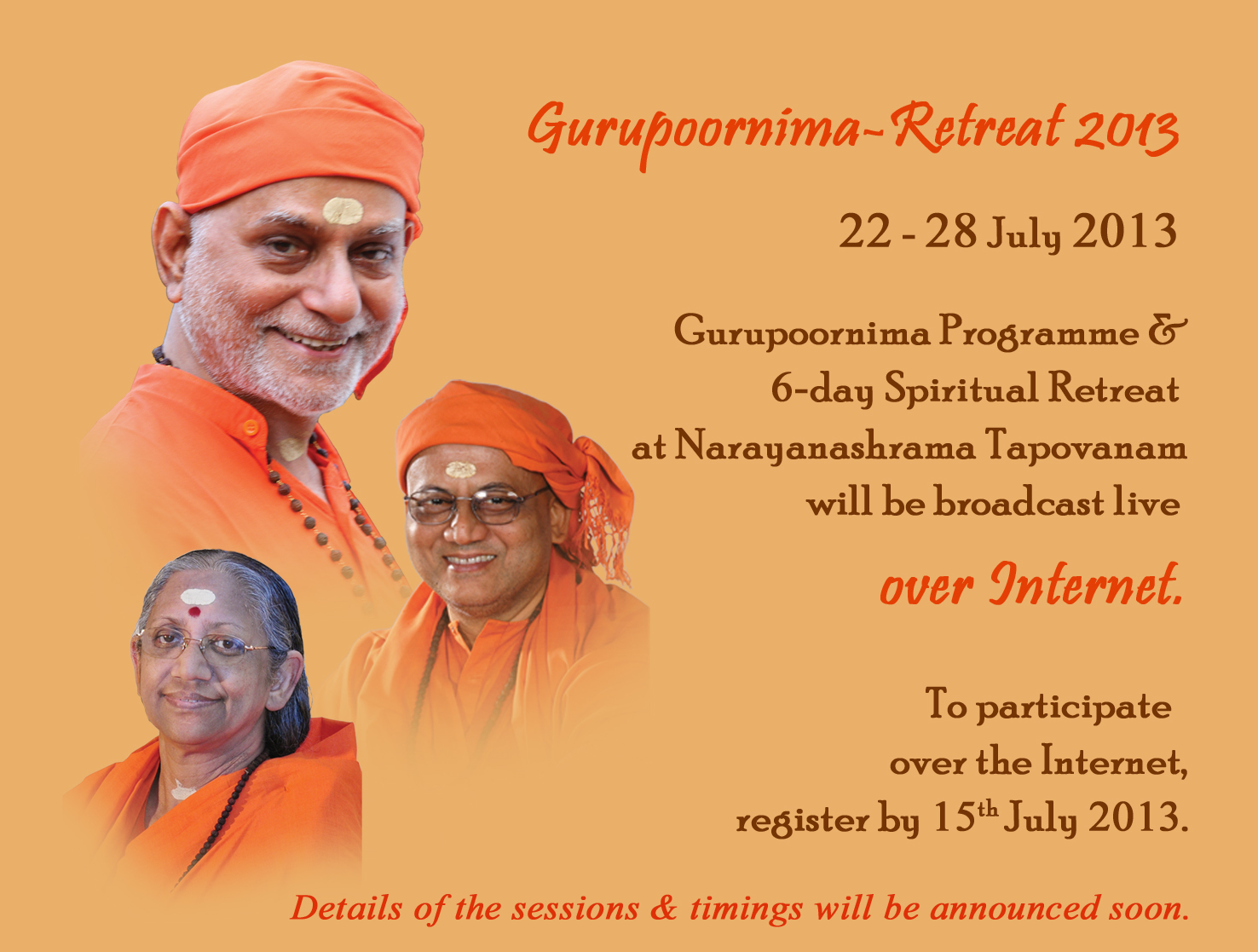 Center for Inner Resources Development - North America (CIRD-NA) is cordally inviting you to Gurupoornima event on July 22nd and Retreat  with  Poojya Swami Bhoomannada Tirtha from 23rd to 28th July to be held in Narayanashrama Tapovanam, India. The entire event will be broadcast LIVE over the Internet.
This is a rare opportunity for devotees and seekers all over the world to benefit from the Discourses, Satsangs and Prabhata-rashmih messages of Poojya Swami Bhoomananda Tirtha along with discourses by Swami Nirviseshananda Tirtha and Ma Gurupriya, while sitting in the comfort of their homes. We heartily invite you to attend all the sessions. ALL PROGRAMS ARE FREE.
Link to Sign up : Gurupoornima 2013 Webcast
For more details contact CIRD-NA team at events@cirdna.org or by calling Pankaj Bhatia at  703-748-8405 Ram Prasad at 703-485-0540 or Sid Govindani at 703-863-5869
___________________________________________________________________________________
2013 USA Program ( Jnana Yajna / Knowledge Tour) - http://cirdna.org/2013program.html 
When
Monday, July 22, 2013 at 7:00 PM

-

Sunday, July 28, 2013 at 10:00 PM (EDT)
Add to my calendar
Organizer
The Center for Inner Resources Development (CIRD) is a unique Knowledge Institution that helps individuals discover and harness their inner resources through a deeper understanding of the human mind, and develop a poised all-embracing personality.  CIRD conducts workshops for corporations and executives, classes and spiritual for seekers.Swami Bhoomananda Tirtha, a renowned spiritual master and teacher of Vedanta from India for more than five decades is the inspiration and guide for CIRD. In the US, CIRD centers are located in McLean, VA and in Irvine, CA.