Trying to start a new habit but don't even know where to start? Proper goal setting gives you long-term vision and short-term motivation.
About this event
If you have an objective, you need the right strategy to get there! Learn how to set achievable goals that will set you up for success.
WHO? 'Setting Goals That Set You up for Success' is an empowering LIVE workshop delivered by Dr. Rachel Goldman, Ph.D., FTOS, a licensed psychologist specializing in health and wellness, including health behavior change, stress management, eating behaviors, and weight management. Dr. Rachel thrives in the wellness community where she helps her clients achieve their health and wellness goals utilizing cognitive behavioral therapy. She is a sought after speaker and expert who has been featured in The New York Times, TIME, NBC News, CNN, USA Today, SHAPE, Women's Health, and more.
WHAT? In this workshop, you will learn how to re-wire your brain so you can unlock your true potential and achievement.
You will learn:
✅ Intentions vs. Goals
✅ Goal Setting EXPLAINED
✅ The secret on how to set effective goals
✅ How to stay motivated throughout the way
✅ How to set SMART goals
✅ How to plan for Success
You will get:
💻 Access to the LIVE "Setting Goals That Set You up for Success" Workshop
📘 The ultimate Setting Goals for Success Workbook
⭐Bonus: LIVE Q&A session so you can get all of your questions answered right away!
WHY? Goal setting is a powerful process where you can identify your ideal future with clarity and a way to stay motivated so you can turn your vision into a reality. Dr. Rachel believes that everyone can achieve their goals and live the life they want by setting SMART goals and having the right mindset.
CAN'T MAKE IT ON TIME? No problem! This workshop will be recorded and emailed to all attendees once it's over.
Start living the life you WANT by setting the goals you NEED! - Space is limited -
[You do not need to attend live to participate. With your ticket, you will receive the recording and the workbook. Tickets are non-refundable.]
Testimonials:
"I've had the opportunity to work with Dr. Rachel and it has been very rewarding for me. I've gotten to know her and she is caring, motivating, and passionate about supporting people to make positive changes to improve their lives and well-being.
Dr. Rachel is the real deal both personally and professionally. She is an insightful mental health professional that understands the psychological issues that come into play for anyone wanting self-improvement. I highly recommend Dr. Rachel!"
Cathy – New York - See More
Find Dr. Rachel on Instagram - @drrachelnyc
Visit her website - www.drrachelnyc.com
*This workshop is for informational purposes only and does not constitute therapy, a therapeutic relationship, medical care, or medical advice.*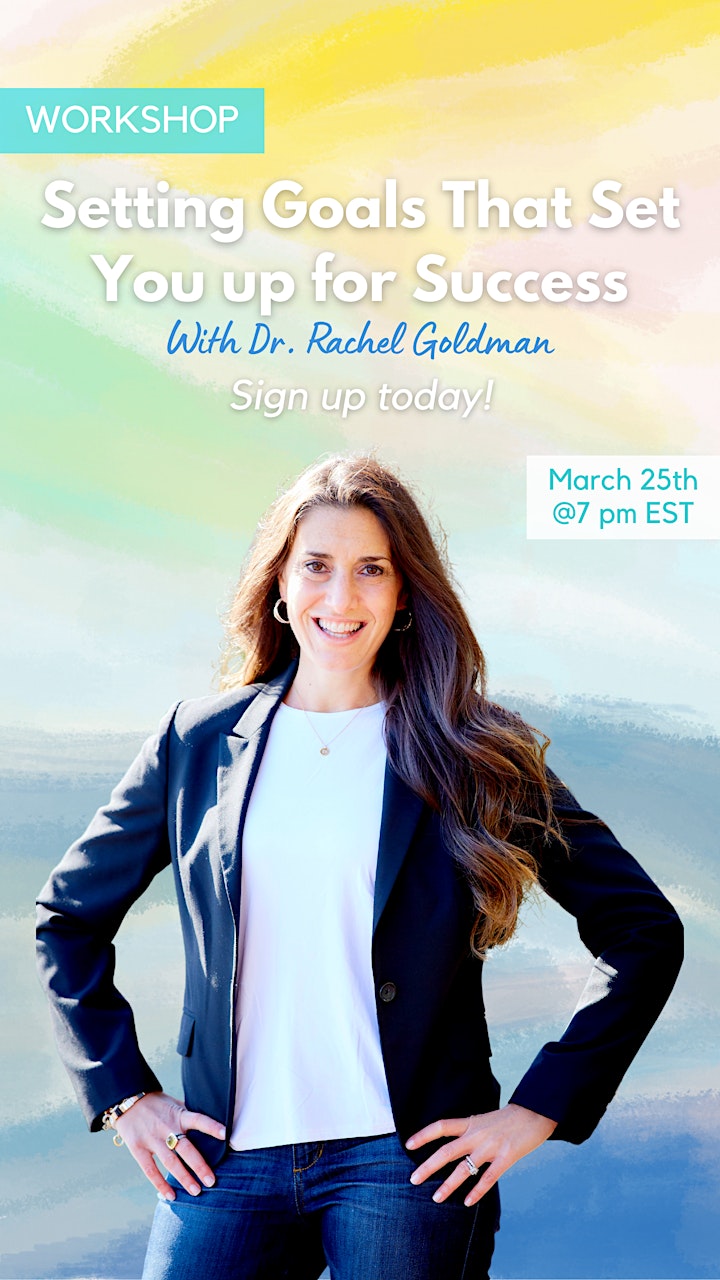 Date and time
Location
Refund policy