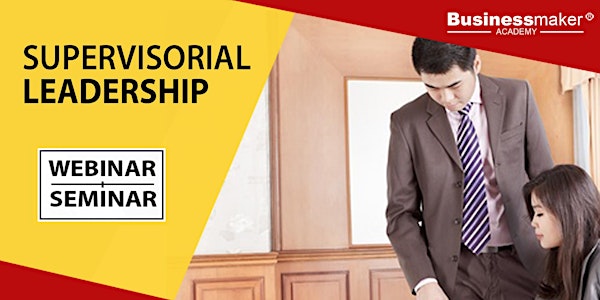 Live Seminar: Supervisorial Leadership
"How to Become an Effective and Confident Supervisor in the new normal"
When and where
Location
Businessmaker Academy Unit 1503A 15th floor, West Tower Philippine Stock Exchange Bldg. Pasig City,, Metro Manila 1605 Philippines
Refund Policy
Contact the organizer to request a refund.
About this event
Course Description
Are you ready to be a Leader in the new normal? Being promoted as a supervisor is a great career milestones but it also carries added responsibilities and changes in work relations. This Leadership for Supervisors Training course prepares aspiring or newly-promoted supervisors to take on their new leadership role. It gives practical tips on self-management and team management. It equips you with the emotional, interpersonal, mental and technical competencies for Supervisors. It will inspire you to become a Good Supervisor and arm you with the skills and confidence needed for your new role.
What you'll learn
-To embrace our roles as leaders
-To enhance leadership qualities, values and techniques
-To apply practical tips on self-management
-To gain competencies in managing staff
Course Highlights
1. Leadership Motivation Assessment
2. Barriers to Effective Leadership
3. Benefits of Being a Great Leader
4. Roles & Functions of a Supervisor
5. Role Positioning for Supervisors
6. The CRAFT of Supervisorial Leadership
7. Developing Leadership Confidence
8. Leadership Skills Enhancement: PLOCT Techniques
9. Habits of Successful Leaders
10. Supervisorial Leadership Strategy & Image
11. Techniques in Managing People
12. Dealing with Supervisorial Leadership Issues
Who Should Attend?
This Leadership Training for Supervisors Course is designed for Aspiring Leaders, Newly Promoted Supervisors, Team Leaders, Department Officers and officers who are being groomed to become supervisors
For more information, you may contact us through:
(632) 7957-7937, 7577-9211
(0917) 6372471, (0912) 2231826
info@businessmaker-academy.com
www.businessmaker-academy.com