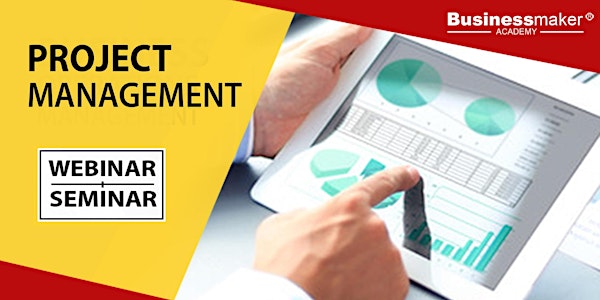 Live Seminar: Project Management
"How to Effectively Plan, Implement and Evaluate Work Projects"
When and where
Location
Businessmaker Academy Unit 1503A 15th floor, West Tower Philippine Stock Exchange Bldg. Pasig City,, Metro Manila 1605 Philippines
Refund Policy
Contact the organizer to request a refund.
About this event
Course Description
Managing a project is no easy task. It involves planning, organizing, implementing, measuring, and evaluating results. Regardless of how simple and short or complicated and long-winded a project is, there are key project management skills and tools that will allow you to take control and lead your project to success. This course provides participants with the knowledge and tools to carry out projects from conception to materialization. It provides effective and innovative techniques in managing projects with case studies that allow participants to simulate problem-solving for project case scenarios and also adapt to the New Normal.
What you'll learn
-To learn how to create project proposals, plans & reports
-To gain effective tools needed for project planning & implementation
-To enhance leadership skills for project management
-To acquire problem-solving skills that are essential in project management
Course Highlights
1. Types of Projects
2. Project Life Cycle
3. Project Management Leadership
4. Roles, Responsibilities, Competencies of a Project Manager
5. Project Planning
6. Components of a Project Plan
7. Managing Your Project Team
8. Project Management Matrix
9. Integrated Project Management
10. Project Management Techniques: Pert, CPM, Gantt, etc.
11. Action Plans, Activities & Scope of Work
12. Scheduling & Timeframes
13. Budget & Resource Allocation
14. Project Monitoring & Tracking
15. Project Management Analysis
16. Evaluation Project Phases
17. Preparing Your Project Report
18. Post Project Management
Who Should Attend?
Project managers, Project team leaders, Project team members or any person who is tasked plan, implement and complete projects.
For more information, you may contact us through:
(632) 7957-7937, 7577-9211
(0917) 6372471, (0912) 2231826
info@businessmaker-academy.com
www.businessmaker-academy.com