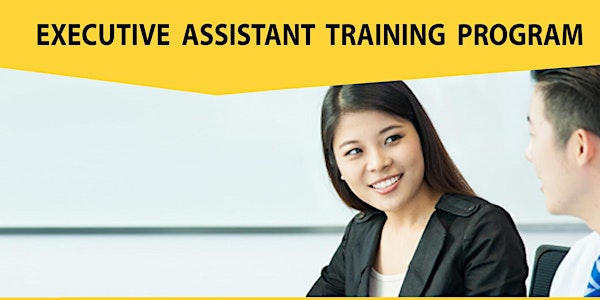 Live Seminar: Professional Executive Assistant Training
"The CRAFT of Managing Your Boss & Office in the New Normal"
When and where
Location
Businessmaker Academy Unit 1503A 15th floor, West Tower Philippine Stock Exchange Bldg. Pasig City,, Metro Manila 1605 Philippines
About this event
Course Description
Every boss knows the value of a good executive assistant. He knows that a good executive assistant is an indispensable part of his team that keeps him organized, on time, and on track. This course provides participants with the know-how on how to run a smooth office and be able to gracefully handle concerns of the boss. It enhances your administrative skills that will enable you to confidently handle the challenges that you face daily as an executive assistant. It also aligns with the work life of an Executive Assistant in the New Normal.
What you'll learn
-To understand the proper decorum for Executive Assistants
-To gain additional administrative skills
-To practice how to deal with different situations and bosses
-To get updated with effective and modern tools that will enable you to manage your work better
Course Highlights
1. Dynamics of the BOSS-Assistant Relationship
2. The Professional Executive Assistant
3. Key Roles, Functions, Duties, Competencies
4. Enhancing Your Administrative Skills
5. Business communication: Rephrasing blunt messages
6. Gatekeeping & Message Handling
7. Meeting Notes & Minutes
8. Scheduling & Time Management
9. Office Files Management
10. Coordinating Meeting & Events
11. Tools of the Trade
12. Managing Office Technology
13. Electronic Etiquette
14. Image Enhancement & Business Etiquette
15. Practical Negotiating Skills
16. Executive Assistant Situational Problem-Solving
17. Dealing with Difficult People & Work Challenges
18. Dealing with Work Emergencies
Who Should Attend?
Executive Assistants, Administrative Assistants, Office Assistants, Secretaries, Administrative Personnel, Support Staff or anyone who is responsible for coordinating, managing or being an effective assistant for bosses and departments.
For more information, you may contact us through:
(632) 7957-7937, 7577-9211
(0917) 6372471, (0912) 2231826
info@businessmaker-academy.com
www.businessmaker-academy.com