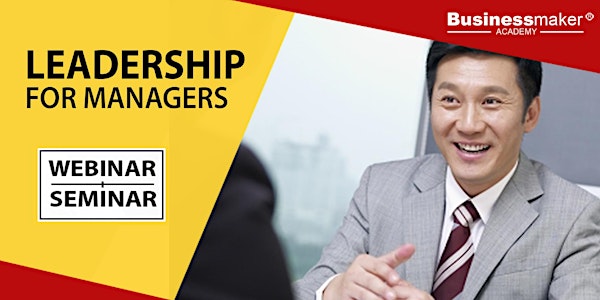 Live Seminar: Leadership for Managers
"How to Develop Leadership Competencies for Better Business Management"
When and where
Location
Businessmaker Academy Unit 1503A 15th floor, West Tower Philippine Stock Exchange Bldg. Pasig City,, Metro Manila 1605 Philippines
Refund Policy
Contact the organizer to request a refund.
About this event
Course Description
For this 2-day Leadership Training for Managers Course, we focus on developing 5 levels of core competencies that you will need to lead and manage yourself, your team, your project, your department and job as a manager. Not only will you develop soft-skills, you will also gain hard skills and know-how on effective leadership and management. Learn tools and techniques to make you a good leader and manager. Create your own plan of action that you can immediately apply in the workplace.
What you'll learn
-Learn important leadership trends for business management
-Develop and hone core leadership and management skills
-Create your own leadership plan for the workplace
-Get effective tools and know how to use them for effective leadership
Course Outline
1. Leadership Trends and Challenges
2. Myths and Misperceptions about Leaders
3. Roles & Functions of a Manager
4. Leadership & Management
5. Defining Your Leadership Style
6. Solutions for Common Management Issues
7. Leadership Blueprint: Workplace Integration Plan
8. Using Technology for Effective Leadership
9. Developing Leadership Core Competencies for Managers
-Managing Self
-Managing Projects
-Managing People
-Managing Programs
-Managing Your Department or Business Unit
10. Leadership Toolkit
Who Should Attend?
This Leadership Training for Managers Course is designed for Department heads, Unit Managers, Team Leaders, Aspiring leaders or any person who is responsible for managing a business unit, department, branch, business team or area.
For more information, you may contact us through:
(632) 7957-7937, 7577-9211
(0917) 6372471, (0912) 2231826
info@businessmaker-academy.com
www.businessmaker-academy.com