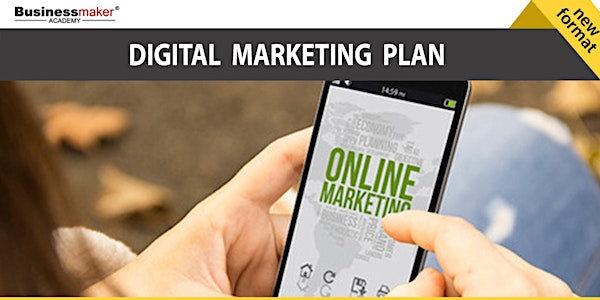 Live Seminar: Digital Marketing Plan
"How to Create a Successful Digital Marketing Campaign Plan to Strengthen Your Online Presence & Increase Sales in the New Normal"
When and where
Location
Businessmaker Academy Unit 1503A 15th floor, West Tower Philippine Stock Exchange Bldg. Pasig City,, Metro Manila 1605 Philippines
Refund Policy
Contact the organizer to request a refund.
About this event
Course Description
Due to the COVID-19 pandemic, brands are facing an unprecedented and highly disruptive situation. While nobody can predict what a post-coronavirus reality would look like, one thing is certain for marketers: digital channels are more important than ever. Online channels now play an increasingly crucial role, as people continue to self-isolate and spend more time online. Digital Marketing Planning in the New Normal will demand that brands and companies redesign their performance game plan, and develop continuous highly adaptive, and agile strategies. It's time to reassess our digital marketing strategies. What are the key areas that we should focus on and identify new opportunities? This course provides you with the essentials of Digital Marketing – the channels, platforms, terminologies, practical tips, and best practices – to help you craft your Digital Marketing Strategy and develop your own Digital Marketing Plan in the New Normal. The course also provides useful tools and resources to get you started immediately in Online Marketing.
What you'll learn
-To learn the various components of Digital Marketing.
-To understand today's digital consumer and learn how to develop your strategy around their online behavior.
-To learn the best practices and apply these in designing and implementing your Digital Marketing Plan.
-To explore ways to measure the effectiveness of your Online Marketing Efforts
Course Highlights
1. Important Digital Trends and Stats
2. Why having a Digital Marketing Strategy is important
3. Understanding the Digital Marketing Consumer
4. Three Types of Media – Owned, Paid & Earned
5. Digital Marketing Tools & Resources
6. Case Study: Profile of a Successful Digital Marketing Campaign
7. Defining your DM objectives
8. Best Practices and KPIs on:
a. Website
b. Search Engine Optimization
c. Search Engine Marketing
d. Social Media
e. Email Marketing
f. Mobile Marketing
9. Crafting your Digital Marketing Strategy
10. Action Plan
11. Monitoring and Measuring the Results
12. Campaign Optimization
Who Should Attend?
Business Managers, Entrepreneurs, Marketing & Sales Managers or Officers, Online Marketers, Online Sellers Bloggers, Media Planners, PR Officers, Fundraising Officers & NGO groups, Corporate Communications Officers or any person who would like to learn to maximize online tools to increase awareness and sales results of their organizations.
For more information, you may contact us through:
(632) 7957-7937, 7577-9211
(0917) 6372471, (0912) 2231826
info@businessmaker-academy.com
www.businessmaker-academy.com