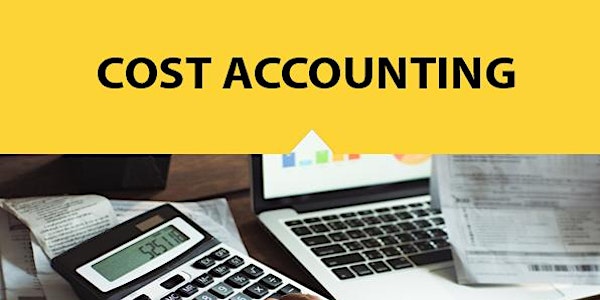 Live Seminar: Cost Accounting
"How to Manage Costs & Accounting Transactions"
When and where
Location
Businessmaker Academy Unit 1503A 15th floor, West Tower Philippine Stock Exchange Bldg. Pasig City,, Metro Manila 1605 Philippines
Refund Policy
Contact the organizer to request a refund.
About this event
Course Description
This 2-day course aims to provide a clear understanding and appreciation of the concepts, tools, and techniques necessary to address financial and strategic control problem typically faced by analysts, controllers, and manager. Areas covered would include cost behavior, strategy in the context of managing financial decisions, and the nature of the interaction between strategic planning and managerial control. Learn how to manage your organization's costs effectively.
What you'll learn
At the end of the course, participants should be able to:
-Differentiate Cost Management from Financial Management
-Identify factors affecting Cost Management
-Define Basic Cost Management Concepts
-Track the flow of costs in a job-costing system
-Allocate cost using a single-rate and multiple rates
-Distinguish between simple and activity-based costing
Course Highlights
1. Introduction to Cost Management
2. How cost management differs from financial management
3. Factors affecting cost management
4. Role of management accountants within an entity
5. The forms of certification available to accountants
6. Professional ethics
7. Basic Cost Management Concepts
8. Cost management information system
9. Process of assigning costs to products and services
10. Production costs and Nonproduction costs
11. Preparing financial statements for a manufacturing entity
12. Traditional and Activity-based cost management systems
13. Fixed, Variable and Mixed costs
14. Methods to separate mixed costs into their fixed and variable components
15. Methods of cost estimation
16. Activity-based costing
17. Job-Order Costing
18. Process Costing
19. Cost Allocation
20. Activity-based costing and activity-based management
21. Broad averaging undercosts and overcosts products or services
22. Activity-based costing and Department costing systems
23. Four-part cost hierarchy
Who Should Attend?
Business Owners, Accounting Staff, Finance Officers, Analysts, Controllers, Auditors and Managers who deal with cost management of any organization.
For more information, you may contact us through:
(632) 7957-7937, 7577-9211
(0917) 6372471, (0912) 2231826
info@businessmaker-academy.com
www.businessmaker-academy.com