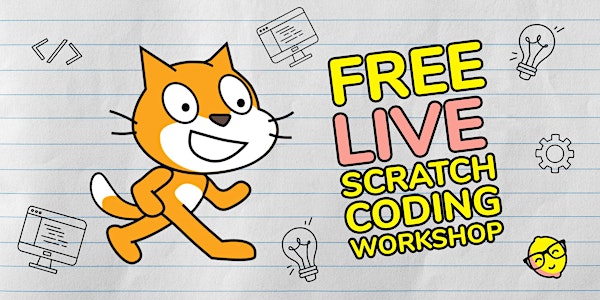 Live Scratch Coding Workshop Saturday, August 27th!
Join YouTuber, Eden from Lemonerdy, for a live Scratch coding workshop for ages 8+ hosted by DIY.org!
About this event
Join YouTuber Eden from Lemonerdy for a special live Scratch coding workshop this Saturday, August 27th at 11 am Central Time. During the workshop, you and Eden will code a new game, attendees can ask questions, and they can share their projects for feedback.
The workshop is for kids ages 8+ and will be hosted by DIY.org on Zoom. No registration is required. The link to join is on Lemonerdy.com, and will be active at 11:00 am Central on Saturday.
A special message from Eden:
I am really excited to lead this live coding workshop this Saturday! This event is to celebrate the launch of my new Scratch course on DIY.org. After this event, head on over to DIY and try it! My course is an advanced Scratch coding course recommended for ages 9-16. Parents must create the account and sign up.
To get a 7 day trial, AND 50% off if you decide to subscribe, use this code at checkout - LEMONERDY
DIY+ Subscribers can add videos when they complete challenges, earn badges and more. I am a mentor, so when subscribers add videos and complete challenges, I can check out what they have created and respond.
All of the courses on DIY are free, including mine, so even if you don't subscribe, you still have access to the course! How cool is that?
In the video above, you can get a look at what my course looks like. Don't forget to use my code, LEMONERDY, at checkout to get your free trial and 50% off.
DIY is COPPA compliant and KidSafe certified.
*Disclosure: The code is an affiliate code and when you sign up, you receive a discount and I receive compensation.
New to Lemonerdy? Watch this video to learn more!