ASWA Live Pro Wrestling returns to Mansfield, Ohio on February 5th, 2022 at the Malabar School Gymnasium!
About this event
ASWA Saturday Night Slam 2022! Coming to Mansfield, OH on Saturday, February 5th, 2022 at the Malabar School Gymnasium (205 W. Cook Rd.)! Doors open at 6pm with a 7pm bell time! Gather all of your family & friends to be part of the excitement and witness an action packed night of LIVE PRO WRESTLING!
-In the Heavyweight Title Match, see "The Redneck Kid" Robby Collins defend the gold against Izzy Lambert!
- The Universal Champion, JJ DeVille must put the title on the line against the mighty Asylum in his return to the ASWA!
- The Status Symbols must defend their Tag-Team titles against Colton Quinn & Alex Matthews!
- Ethan Wright returns to the ASWA to face Impact Wrestling's Main Event Monster, Madman Fulton!
- In another greatly anticipated return, you will see Beastman come back to wage a battle with Gideon Malice!
- The Smashing Machine, Tommy Chill will take on Axel Fury in a one-on-one bout!
- Kenny "The Hurricane" Hendrix will lock horns with Mikah Leonhart!
Ticket Prices-
General Admission: $8.00 Advance/$10.00 At The Door.
*2nd ROW SEATING: $10.00 Advance/ $12.00 At The Door. (*Quantity is limited)
*FRONT ROW: $12.00 Advance/$15.00 At The Door (*Quantity is limited.)
**Front Row and 2nd Row are limited...get them while you can.
Advance tickets on sale at:
SHOWPLACE RENT TO OWN
1040 Ashland Rd.
Mansfield, OH
419-589-4748
&
ASHLAND, OH:
SHOWPLACE RENT TO OWN
1059 Commerce Parkway
Ashland, OH
419-281-7368
Tickets are also available online at:
www.ASWALIVE.com
There will be prize giveaways along with a 50/50 CASH PRIZE DRAWING!
Plenty of parking available on site!
Wrestling stars will be available for pictures and autographs!
Souvenirs will be available!
Food & Drink available at the concession stand!
(Sorry...No outside food or drink permitted)
Great family fun for all ages!
BE THERE!
*Card Subject To Change.
**By attending this event, you understand that you are liable for your own risks concerning the "COVID-19" virus and cannot hold the ASWA, it's wrestlers & staff, any sponsors, affiliates, Malabar School and the Mansfield City Schools and its employees, staff and affiliates liable for any issues that may or may not arise from any kind of exposure to "COVID-19" or any other flu or communicable disease. By attending this event you release and discharge any liability from the ASWA and it's colleagues and venues.
For more information, visit: www.ASWALIVE.com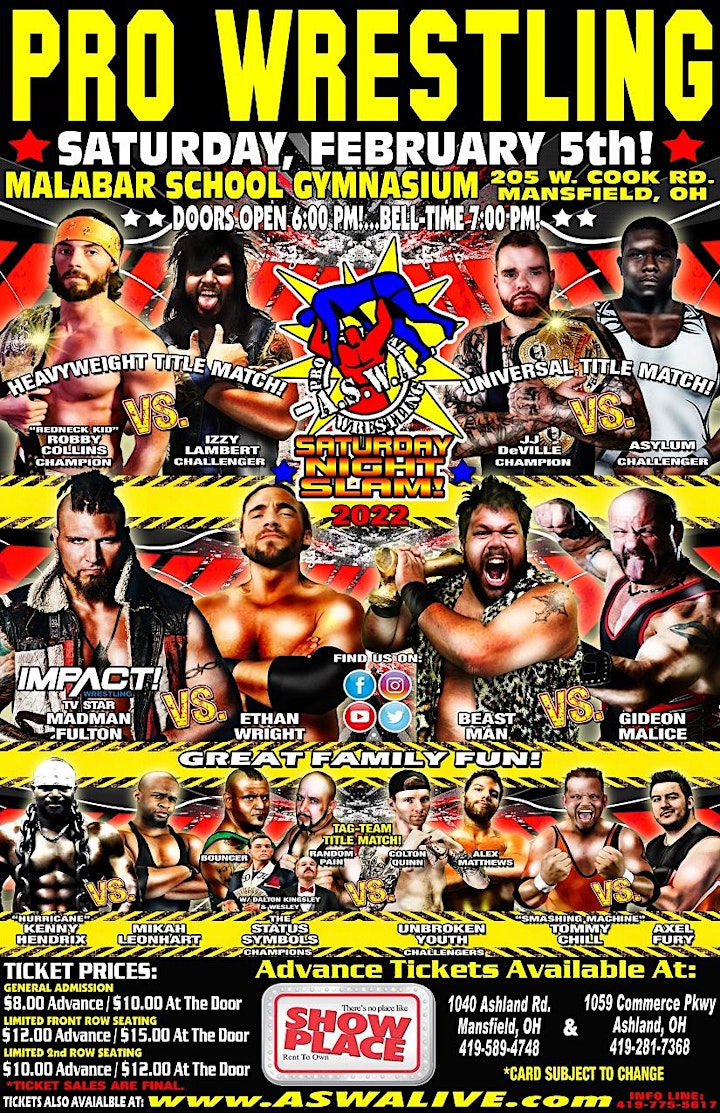 Organizer of Live Pro Wrestling: ASWA Saturday Night Slam 2022!
The ASWA is a professional wrestling organization sanctioned by the Ohio Athletic Commission and has been on the scene since 1989. This promotion has been featured in numerous magazines, newspapers, radio programs and TV shows throughout the years and has thrilled and excited every town and city it has ever made it's way to. All the fans who have ever attended an ASWA event have always enjoyed a night full of thrills, chills and bone crunching spills.
     The American States Wrestling Alliance has and will always hold true to the history and tradition of professional wrestling as well as keeping things fresh and current to entertain it's mass of fans.
   There have been many wrestling stars and legends that have graced the ASWA rings around the country. Everyone from home town heroes to some of the biggest names in PROFESSIONAL WRESTLING.
   If you ever have the chance to experience the excitement of an ASWA event, don't pass up the opportunity to enjoy a great night of fun and entertainment for the whole family.