Live Premiere Sessions: The Carvels NYC, Tracy City
Location
The Bowery Electric
327 Bowery
New York, NY 10003
Live Premiere Sessions: featuring The Carvels NYC, Tracy City
About this event
The Bowery Electric Presents: Live Premiere Series
A brand new, professionally mixed and filmed, socially distant livestream series featuring some of our favorite artists, shot right here at The Bowery Electric! With a "pay what you can" ticket, high quality sound, special merch, virtual tip jars, a live chat after the show, and other killer experiences and add-ons brought to you by Veeps, this is as close to a live show as you're gonna get! All sales will benefit the artists and help save our incredible venue!
The Carvels NYC
The Carvels, a five-piece band from New York City, have a fearless, sarcastic punk sense of humor and an endless supply of catchy hooks. On "Late Night Heart", Lynne Von Pang's snarky and richly melodic vocals are complemented by the soulful "Exploding Sax" of special guest Danny Ray (Jesse Malin Band, Mad Juana) and rousing licks from veteran guitarist Brian Morgan. Bassist RB Korbet (Missing Foundation, King Missile), who joined the band in 2018, adds winsome backing vocals on her debut recording with The Carvels, while long time drummer Steve Pang keeps the kids dancing. The Carvels NYC recently welcomed tenor saxophonist Trevor Galvin into the fold, who will join them as 2020 kicks off on a tour of Southern California (alongside label mates and friends The Hellflowers, Glitter Trash, Honeychain and Vicky & the Vengents).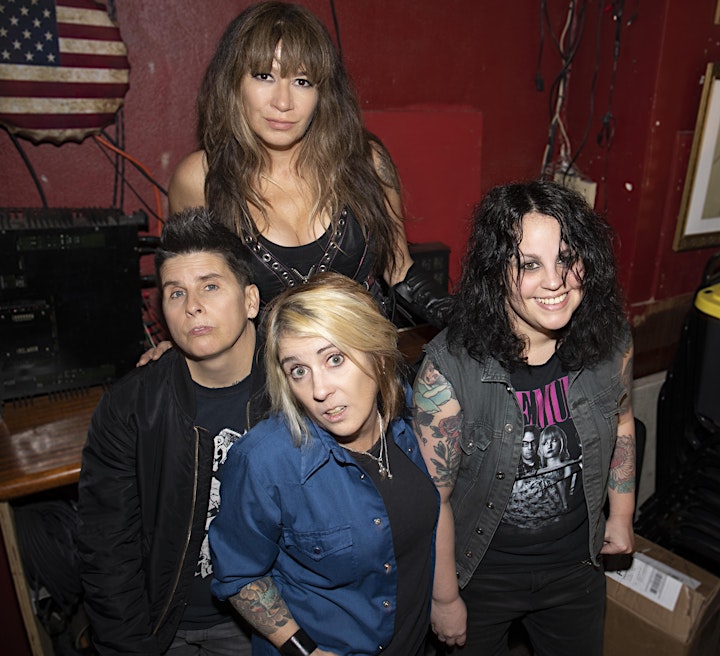 Tracy City
Tracy City is a gang of salty broads revving the engines of garage rock by way of New York City no-wave queercore. Formed by underground film director Katrina del Mar (vocals), with Monica Falcone (guitar, vocals) Genny Slag (drums, vocals) and Liz Velic (bass). Tracy City is both a fictional band in an experimental feature film screenplay, and also a very real trash rock lesbian presence in present day hyper-gentrified New York City. Think Bush Tetras meet the Pandoras by way of Gary Numan. Power retro-pop. Devo, B-52s, The Voluptuous Horror of Karen Black, Gang of Four.