Stick around after for a live chat with the bands! And if you can't tune in live, don't worry! This show is on-demand thru 11/28.
About this Event
The Bowery Electric Presents: Live Premiere Series
A brand new, professionally mixed and pro shot, socially distant livestream series featuring some of our favorite artists, shot right here at The Bowery Electric! With different ticket tiers, high-quality sound, special merch, virtual tip jars, a live chat after the show, and other killer experiences and add-ons brought to you by Veeps, this is as close to a live show as you're gonna get! All sales will benefit the artists and help save our incredible venue!
Ten Ton Mojo
Ten Ton Mojo is a rock band on the rise! They are being hailed in the press as "easily the best rock band in New York City" (The Aquarian Weekly). In the wake of their independently released self-titled album, Ten Ton Mojo has been providing live support for The Supersuckers, The Dirty Pearls, The Compulsions, Jesse Malin, John 5, Smash Fashion, the late Scott Weiland and others. Hip shaking rhythms blend hard rock, soulful blues and southern charm to create the new classic rock. Their single "Pinball Girl" is prominently featured in the indie movie Pinball Donut Girl and a remixed version of their track "One and Only" is being featured in Suzuki's new ATV ad campaign.
Ten Ton Mojo has a street wise guitar driven sound crafted by guitarists Scott Lano and Christian Realmuto which then gets carried home by the searing vocals of Dave Anthony. Backed by thundering rhythm section of Paul "Sugar" Kane on drums and Chris Laubis on bass guitar, this band is the rebirth of real American rock and roll!
Ten Ton Mojo has magically captured the secret for success in an evolving industry which demands both mass market appeal and personalized attention to a strong local fan base. They create a musical energy which has yet to be experienced in the 21st century. Along
the East Coast, Ten Ton Mojo has already become a game-changer. A grass roots marketing campaign paired with a strong social media presence is helping to create anticipation of a major tour announcement.
Ten Ton Mojo is the NEW Classic Rock!!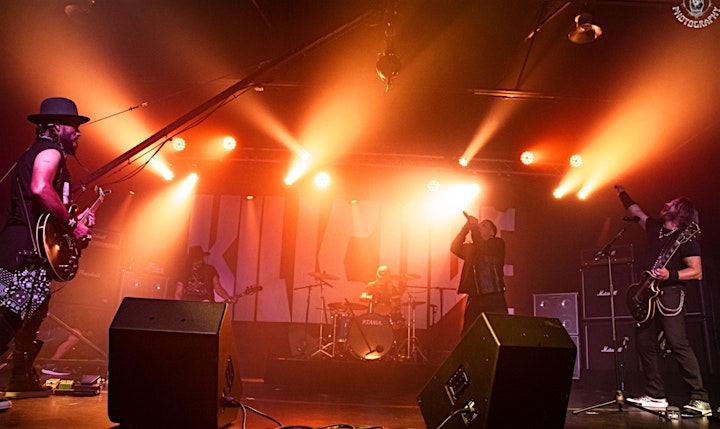 KILLCODE
KILLCODE is a five-piece American based rock band that hails from New York City. Their unique sound and style has been described as Southern infused Rock/ Metal with modern day vocals. KILLCODE's songs are hooky super charged anthems with big guitars and driving rhythms that pumps a shot of adrenaline into your system the moment you hear them.