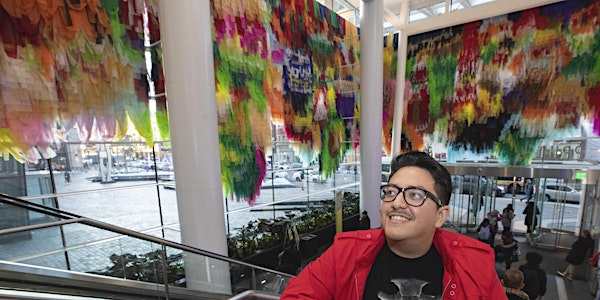 Live Podcast of "Latinos Who Lunch" with artist Justin Favela
Date and time
Wednesday, February 26, 2020 · 6 - 7:30pm EST
Location
Howard Thurman Center for Common Ground 808 Commonwealth Avenue Brookline, MA 02446
Description
Join the BU Arts Initiative, public art curators Now + There and local civic engagement and Latinx leadership organization Amplify Latinx for a live podcast recording of Latinos Who Lunch with artist & host Justin Favela, and guest host Myte, at the new Howard Thurman Center for Common Ground at Boston University.
We're excited to be bringing Latinos Who Lunch, a podcast that was created to provide a digital media platform that reflects the intersectionality between queer, Latinx, and Spanglish voices in an Anglo dominated podcast world, to Boston! This live podcast recording will feature artist Justin Favela (regular Latinos Who Lunch host, also known as FavyFav) and some special guests to talk about art, culture, and Latinx representation and build the conversation started by Favela's temporary installation, ¡Provecho! currently on view at The Prudential Center.
Photo Credit: Dominic Chavez
For more information about the podcast, your hosts for the evening & our cosponsors, please visit: bu.edu/arts/justin-favela
About the organizer
The Boston University Arts Initiative ensures that the arts are fundamental to the BU student experience both inside and outside the classroom.