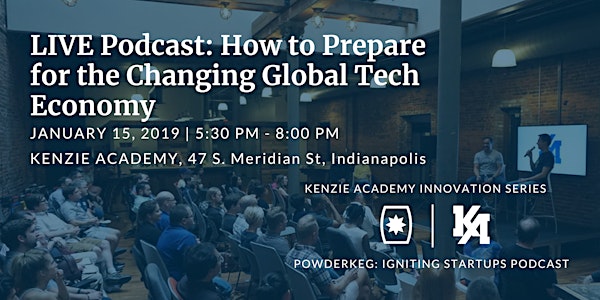 LIVE Podcast: How to Prepare for the Changing Global Tech Economy
When and where
Location
Kenzie Academy 47 S Meridian Street 4th Floor Indianapolis, IN 46204
Description

What will the technology and venture capital landscape look like in five years? How about in 10 to 20 years? The data points to rapid change.
In "How the Geography of Startups and Innovation Is Changing," Harvard Business Review shows how the U.S. has gone from receiving 95 percent of global investment money to half.
Meanwhile, as the U.S. faces a tech talent shortage, nations such as India will enjoy a surplus. That's according to Korn Ferry's "Future of Work: The Global Talent Crunch."
What do these shifts mean for tech entrepreneurs and investors?
Help us find answers as we welcome Kamran Elahian, founder of Global Innovation Catalyst, for a LIVE podcast recording.
It's happening on Tuesday, January 15th starting at 5:30 PM at Kenzie Academy. Get all the details below …

THE 2019 INNOVATION SERIES
---
Powderkeg and Kenzie Academy have teamed up to bring you the 2019 Innovation Series. We're flying in innovators from around the country to Indianapolis so you can learn from them, meet them and hear their stories. We've got some big names planned and can't wait to introduce you to them!

MEET OUR GUESTS
---
Guest # 1: Kamran Elahian | Founder and Chairman of Global Innovation Catalyst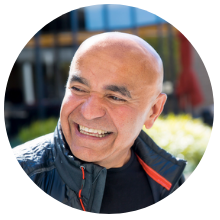 Elahian has blazed an inspiring trail as a global tech entrepreneur. He has co-founded 10 companies, resulting in 6 exits and 3 unicorns with a total market cap of more than $8 billion. Now based in Palo Alto, Elahian focuses on helping governments around the world shift from economies based on fossil fuels to ones built upon sustainable innovation. A vision of global philanthropy underpins everything Elahian does, along with a conviction that technology can help dissolve barriers between nations and bridge differences among people.
Guest #2: Chok Ooi | Co-Founder and CEO

Every day, Chok Ooi strives to close the tech talent gap by pioneering new models in education. In addition to leading Kenzie Academy, Ooi is chairman of New York-based AgilityIO, which trains developers in Southeast Asia and connects them with tech companies from Google to NerdWallet. He also has an extensive funding background as an investor, and as a relationship-builder with coastal VC firms and investment banks.
THE HOST OF POWDERKEG: IGNITING STARTUPS
---


Matt Hunckler | Entrepreneur, international speaker, and CEO of Powderkeg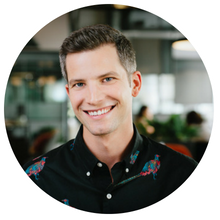 Matt Hunckler is an entrepreneur, international speaker, emcee, podcast host, and CEO of Powderkeg.
Matt has grown Powderkeg into a community of more than 10,000 tech entrepreneurs, developers and investors building high-growth tech ventures around the world in areas outside of Silicon Valley. This platform connects its members to a suite of resources including high-energy events, exposure, and education. Powderkeg founders have collectively raised more than $500 million in capital and are disrupting industries, creating wealth, and changing the world from areas beyond Silicon Valley.
THE AGENDA
---
As always, there will be plenty of time to connect with the community. Here's the agenda:
5:30 PM — Doors Open: General Networking and Happy Hour with Kenzie Academy
6:30 PM — Podcast Recording Begins
7:15 PM — Wrap-Up and Happy Hour with Kenzie Academy
LOCAL FOOD AND DRINK
---
Think we would let you go hungry? No way - we got you. Get your fill from our great local partners at Nameless Catering and their tasty eats, as well as some select craft beers!