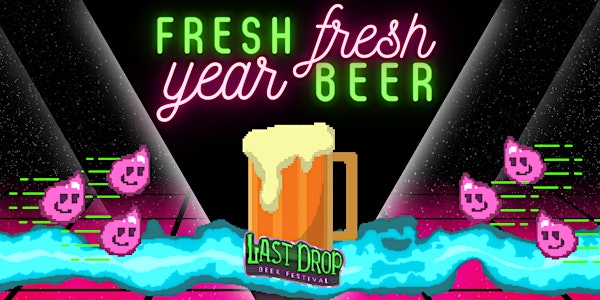 LIVE! ONLINE! Virtual Craft Beer Event: Fresh Year Fresh Beer Fest 2021
Sales Have Ended
Ticket sales have ended
We're so sorry, ticket sales for the upcoming Last Drop Beer Festival have ended! Please join us for the next one, and stay informed by joining our email list!
Virtual Craft Beer Fest featuring the best California craft breweries! Hosted LIVE w/ musical guests, guided beer tastings, trivia, & more !
About this event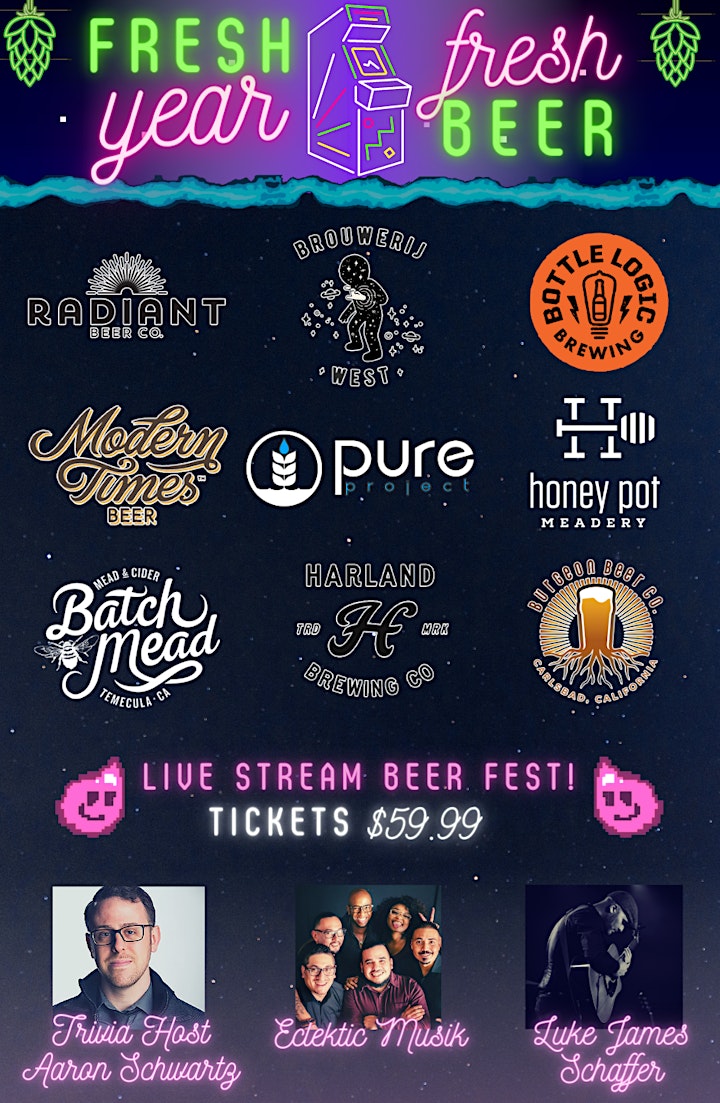 Welcome to 2021! It's time to hit the RESET button and start a new year! Last Drop brings you a premium online craft beer festival with a retro arcade twist:
2020 has been one heck of a tough BOSS LEVEL and it's time for a FRESH START and a NEW HIGH SCORE in 2021! Join the Last Drop Beer Festival team as we spend an evening celebrating the start of the new year by supporting the REAL craft beer industry and drinking their epic 1-UP elixirs while sharing the loot with some of our favorite "Player 2's" welcome to FRESH YEAR FRESH BEER FEST!
We've been hard at work behind the scenes to make sure YOU are going to get hooked up with some of Southern California's most AMAZING beer, NINE (9) 16oz Beers to be exact, from some of the most EPIC breweries. This is definitely a selection of beer that can be shared between 2 people, but we won't judge if you take it on as a solo mission.
But hit the PAUSE, it gets better from there! We'll bring you to the breweries virtually, as we speak with the Owners, Head Brewers, and any other party members who want to join in the gameplay. Get ready by powering up your TRIVIA knowledge to battle our trivia wizard. We've installed the latest SoundBlaster card in our sweet gaming machine to maximize the audio fidelity of our MUSICAL GUESTS, who will make you feel like you just got a MEGA POWERUP.
As always, we pack your box with loads of awesome SWAG from the breweries;
Maximize your gameplay - drop those quarters in the slot, grab your well-earned tickets, and head over to the prize counter. 2021 is destined to be your new HIGH SCORE!
Visit www.lastdropbeerfestival.com for more information!
All Participants will receive:
Exclusive mixed beer pack with 9x 16oz. Cans - Current Lineup (subject to updates without notice):
Bottle Logic - Road Trip - Rocky Road Ice Cream-inspired Imperial Stout/ 10.3% abv
Brouwerij West - "DAEWON VS. BEER" Dry-hopped Imperial Pale Lager / 7% abv
Burgeon Beer Co - "Keep it Nelson" West Coast single hopped IPA / 6.5% abv
Batch Mead - Session Mead (Special release for this festival!)
Harland Beer Co - Sour IPA with Black Currant & Red Raspberry / 7% abv
Honeypot Meadery - Papa Don't Peach - Ginger Peach Sparkling Mead / Expected 8.7% abv.
Modern Times Beer - Timewave Zero - Mosaic Dry-hopped hazy double IPA/ 8.5% abv
Pure Project - Force of Nature Murky NE IPA / 6.5% abv
Radiant Beer Co - Hazy IPA (Unreleased - Still being brewed for us!)
Swag Pack with stickers, coasters, and more from participating breweries!
Access to our LIVE Stream
Access to restream and individual video segments to watch at your own pace if you prefer
VIP Drive-Through Pickup Participants will ALSO receive:
2x Last Drop Beer Fest "Fresh Year Fresh Beer" Themed Glass
1x Bonus Swag Pack
2x Bonus Pre-Game Beer from Game Craft Brewing
(That's an extra tasting glass & 2 pre-game beers for +$5.00!)
In-Person Pickup Participants will ALSO receive:
1x Last Drop Beer Fest "Fresh Year Fresh Beer" Themed Glass
Ship-To Participants will receive:
Offset Shipping Cost
**This ticket option does not include a glass**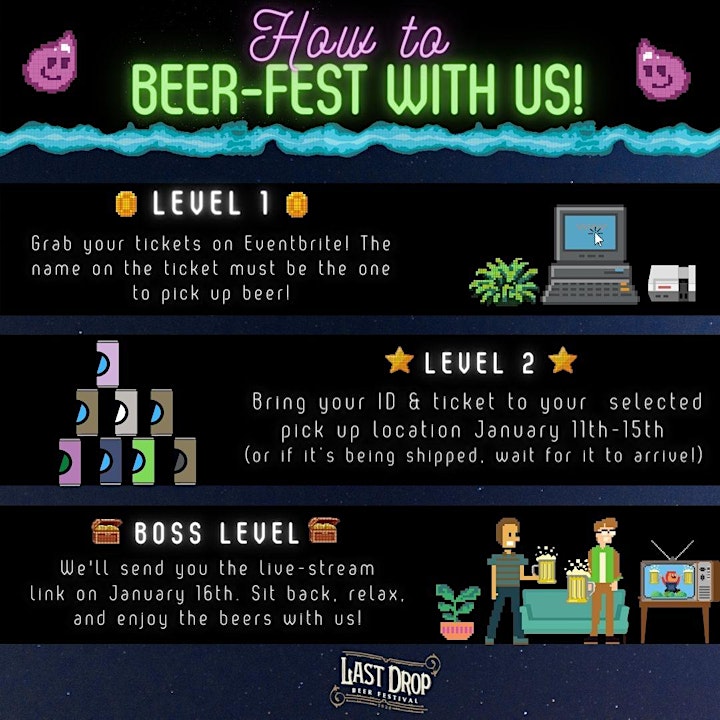 Things you will need to know before buying:
You must have:
VALID Government ID (Driver's License, Passport, Military ID) your ID may not be damaged, expired, or hole-punched. This ID must show that you are 21 years of age or above.
If you purchased a PICK-UP location ticket:
You will only be able to pick up from the location you purchased a ticket from; there are no "extra packages" lying around. If you need to change your ticket after purchasing, you will be charged an extra fee.
You will need a way to physically get your event package from our event package pickup location partners: First Class Pizza - Woodbury, located in Irvine, CA -or- Windsor Home Brew Supply - Anaheim, CA -or- Windsor Homebrew Supply - Costa Mesa, CA. You will need to pick up the event package yourself, we cannot give someone else your event package, for many legal and logistical reasons. You may buy multiple tickets and pick them all up yourself. WE CANNOT ALLOW PROXIES.
Please be aware you will need to pick up your event package from January 11, 2021, through January 15, 2021, during the hours of business:
First Class Pizza - Woodbury : 6420 Irvine Blvd, Irvine, CA 92620
Windsor Homebrew Supply - Anaheim : 1045 N. Armando Street, Suite E, Anaheim CA 92806
Windsor Homebrew Supply - Costa Mesa : 743 Baker St. Suite D, Costa Mesa, CA 92626
O'Shea Brewing Company - Laguna Niguel : 28142 Camino Capistrano #107, Laguna Niguel, CA 92677
The Hobbit Restaurant - Orange : 2932 E Chapman Ave, Orange, CA 92869 (limited pickup window due to VIP Pickup drive-thru)
If you purchased a SHIP-TO-ME ticket:
You will NOT receive a Last Drop Beer Festival "Fresh Year Fresh Beer" Glass, as it will likely be destroyed in shipping. The cost of the glass helps cover/mitigate your shipping fee.
An adult must be present at your ship-to address to receive your package, and be able to provide a valid ID indicating you are of legal drinking age.
If possible, we recommend shipping to your workplace if you cannot be home during the day to receive the package.
Most packages will ship overnight and should arrive next-day. We go to extraordinary lengths to keep your beer cold, please refrigerate the beer upon arrival.
If you miss your shipment, please contact our shipping partner, GLS/GSO to reschedule.
All participants should have:
An internet connection. This is an ONLINE beer festival, and as such an internet connection and at least one internet-connected device, capable of streaming from YouTube.com. You will need to be LOGGED INTO YOUTUBE and indicate that you are 18 years of age at the time of the stream beginning. This is an adult event.
For the LIVE STREAM, you will be sent a link via email. The link will also be available on the Eventbrite ticket page.
We will have a LIVE STREAM TEST DAY for our attendees that may want to experiment with how they set up their technology, or just to verify that things work. We will broadcast LIVE on January 15, 2021, at 6:45 pm for a 30 minute period, which will give you plenty of time to figure out if your equipment works with YouTube. We'll send you a link for this a few days before the event via EVENTBRITE. We do this as a courtesy, we want you to have the best time and connect with us!
Due to legal requirements pertaining to alcohol sales, all sales are final and we are unable to issue refunds.