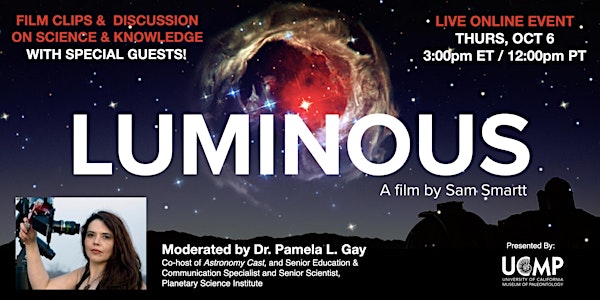 Live Online Astronomy & Film Event featuring LUMINOUS and Top Scientists
Join us for a Live Online Astronomy & Film Event with Dr. Pamela L. Gay featuring LUMINOUS
About this event
Imp in partnership with UC Museum of Paleontology present a virtual screening and conversation with leading astronomers and educators to discuss science as a human endeavor and not just a pursuit reserved for the few.
We invite you to join this unique conversation about the cosmos, and how the process of science differs from what you may think.
The event will screen special clips from the film LUMINOUS and feature leading scientists, and educators that will help audiences cultivate a deeper understanding about how science works and how it impacts our imagination and daily lives.
MODERATED BY: Pamela L. Gay Ph.D, Co-host Astronomy Cast, and Senior Scientist, Planetary Science Institute
GUEST SPEAKERS:
- Sam Smartt, LUMINOUS Filmmaker
- Dr. Larry Molnar, Film Participant and Astronomy Professor, Calvin University
- Dr. Anastasia Thanukos, Science Educator, UC Museum of Paleontology
- Dr. Jennifer Wiseman, Leading Astrophysicist and Director Emeritus, Dialogue on Science, Ethics, and Religion at American Association for the Advancement of Science
FREE RESOURCES: The event will also share a FREE LUMINOUS Science Education Toolkit, a comprehensive tool for colleges and universities.