LIVE NYC Mastermind for Entrepreneurs, Creatives & Social Visionaries

Thursday, March 27, 2014 from 9:00 AM to 6:30 PM (EDT)
Event Details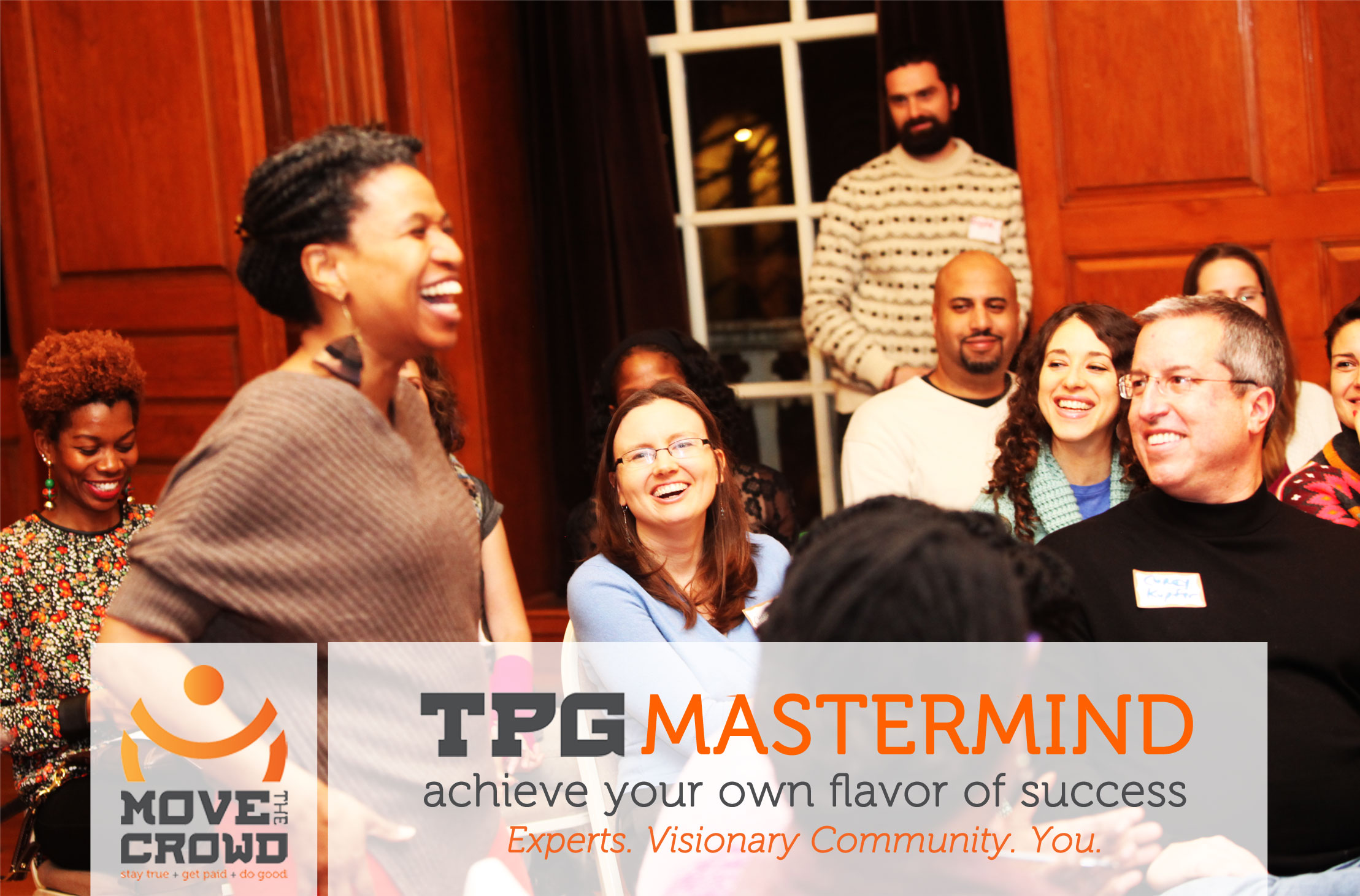 LIVE One Day Mastermind Session
Thursday, March 27 | 9am-6:30 pm | Carriage House Center
This LIVE One Day Mastermind is a rare opportunity that convenes Academy members, Alumni and special invited guests for a full day of intensive lectures, trainings and mastermind sessions. During this daylong event community members come together to leverage the collective "Brain Trust" of their cohort and be nourished by deep connections and robust engagement that strengthens their capacity to lead and build sustainable social ventures.
Training Theme: Game On
In order to participate in the kind of change we want to see in the world, we've got to be willing to acknowledge first where that change wants to happen in us. Where does Game On need to happen in our lives as well as in our business? What parts of our own social and personal conditioning perpetuate the very things we say we want to eradicate in the world? What are the things that keep us stuck and scared and small, that keep us in a state of scarcity and separation? How do we bring our whole selves to the party?
Every entrepreneur with Move The Crowd goes through a process of understanding their relationship to capitalism and how they've personally been conditioned to view their money and/or business transactions. Start there and Game On becomes a whole different game!
Keynote Speakers
Peter Strugatz, Investor, Philanthropist, Entrepreneur - Building Investment Potential & Closing Deals with Your Ideal Movers and Shakers
How do you engage high level stake-holders who offer the potential for big financial investments, incredible business expertise and awesome social capital? How do you successfully build financial relationships and engender trust in your venture so those stake-holders are then willing to write you the big checks? How do you best leverage your business development within the context of the relationships and capital you have access to? We will answer those questions and more in this session.
Peter Strugatz is an early member of the mission-driven business community as an entrepreneur and an investor. His ability to analyze and assess both impact and scalability led him to invest early in today's success stories. Peter brings out the talents, skills and knowledge in people to build sustainable, successful businesses and enterprises.
Rha Goddess, Move The Crowd Founder & CEO - Sacred Selling: The Art of Building a Devoted Client Base in Order to Make Real Impact
The heart of any successful business is rooted in the sacred exchange that takes place between you and your client. Regardless of the product or service, the true quality of your brand will be determined by the level of your client's satisfaction. If you are afraid or don't like to sell, if you have challenges in delivering on your value proposition, or can't find your ideal client, then you do not want to miss this hands-on session.
Rha Goddess is a cultural innovator and social entrepreneur who brings over two decades of transformational crowd rockin' in the name of social change. Rha combines her hard-earned business savvy with her longstanding passion for social change to create a conscious entrepreneurial movement dedicated to re-imagining "work" and ushering in a new socio-economic paradigm of True+Paid+Good.
At each Mastermind we have a powerful cohort of speakers and presenters who bring their vast expertise and unique flavors of success to the room. Watch Terry Young, CEO of Sparks and Honey, Susan Lindner of Emerging PR, SpiritJunkie & Alumni Gabby Bernstein and Financial Behaviorist Jacquette Timmons from past Masterminds. 
Have questions about LIVE NYC Mastermind for Entrepreneurs, Creatives & Social Visionaries?
Contact Move The Crowd
When & Where

Carriage House Center
149 E 38th St
New York, NY 10001


Thursday, March 27, 2014 from 9:00 AM to 6:30 PM (EDT)
Add to my calendar
Organizer
Founded by renowned artist, activist and social entrepreneur, Rha Goddess, Move The Crowd uniquely focuses on urban cultural creatives and innovators who are re-defining what it means to handle our business. With an interdisciplinary curriculum that acknowledges, honors and elevates the whole person, Move The Crowd works with clients to leverage their unique creativity, strengths and passion into tangible, profitable results. Entrepreneurs emerge with the vision to move forward, the knowledge to up their game and the power to achieve their own flavor of success. - See more at: http://www.movethecrowd.me/about/our-company/#sthash.q9cgMulx.dpu
Get updates on events, special offerings & impact opportunities here.
Move The Crowd provides rigorous entrepreneurial training for next-generation movers and shakers. We help you harness your values, creativity and passion to change the world—and get paid doing it! Our unique methodology works from the inside-out with both mindset and skillset to help you achieve your own flavor of success. How?
LIVE NYC Mastermind for Entrepreneurs, Creatives & Social Visionaries