Live Musical Concert by Anupam Roy and Raj Barman (Oct 14th - Oct 19th 2018...
Description
Sarathi: 2018 Scheduled Durga Puja Events
Live Music Concert by Anupam Roy and Raj Barman
Anupam Roy
Tune in the melodies of Anupam Roy LIVE and treat your soul as the singer, composer and writer is going to mesmerize the crowd with Tollywood & Bollywood hits "Bezubaan", "Hum chale", "Beche thakar gaan" and many more at Sarathi - Durga Puja 2018, Koramangala, Bengaluru on 18-Oct-2018, 8:00 PM onwards.
Raj Barman
Music gives soul to the universe and wings to the imagination! Raj Barman is going to enthral Garden City with his energetic performance, effortless stage presence and incredible vocals !
Come and feel the energy at Sarathi - Durga Puja 2018, Koramangala, Bengaluru on 16-Oct-2018, 8:00 PM onwards.
Venue: Mangala Kalyana Mantapa, Koramangala
Let's make this night together a memorable one.
Sponsor with Us - Become a Sponsor Now
Become a financial sponsor for Sarathi Socio-Cultural Trust – Durga Puja 2018 Festival. We invite you to become an essential part of an initiative to increase vibrancy while supporting the local arts and social responsibility. We have several sponsorship options available. Festival attendees are inclined to support organizations that partner with the arts as well as placing a high value on supporting local business. It's for these reasons we believe that your sponsorship of the Durga Puja Festival would benefit your organization.

If you would like to learn more about becoming a sponsor for Sarathi's event then please fill out the form below and our team will get in touch with you shortly.

For More information on Event and Sponsorship - Contact - 9739093617
Our Sponsors:
Sarathi Socio-Cultural Trust is proud to celebrate the Durga Puja Bangalore 2018 at Mangala Kalyana Mantapa, Koramangala. It's the 17th year celebration.
Durga Puja, a unique blend of cultures, celebrate the arrival of the goddess amongst people of all regions, religions and walks of life. We cordially invite you along with your family and friends to join us to celebrate these mega festival known as Sammad.
Shows and events are free for all and everyone is welcome to be a part of the mega celebration.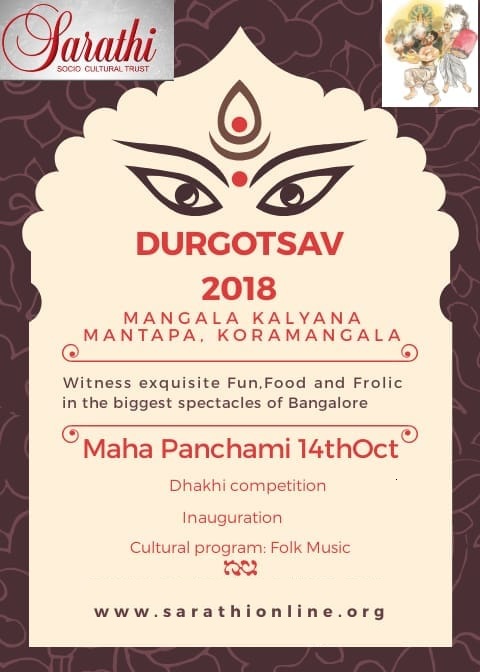 Motto
Our motto is to provide a forum to the people of Bangalore for various social and cultural activities throughout the year.
We strive to imbibe and nurture strong cultural and intellectual feelings among everyone. With the world moving at such a fast pace and most people not having enough time to spend for any cultural activity, we thought of providing all of them with a much sought after relaxation, that they might be hankering after throughout the year, and a space where they can feel at home, immerse themselves in music, drama, dance and any form of entertainment for the few days during the festivities of Dussehra, Durga Puja and Diwali. In most companies and schools and colleges people generally get a few days of holidays. So why not fill these few days with so much fun and frolic that they all can enrich themselves for the rest of the starved year??
That's it. And that's what we intend to do.
At the same time we also want people to be be aware of their social responsibilities and duties to our country and society. There are many small things that we all can do in our daily life to make our society a much more wonderful place for others, specially for the ones who are not as privileged as most of us. That's why one of our mottos is also to deliver our duties towards social welfare. We've been associated with an organization called "Seva-in-Action", which has been working relentlessly towards educating and empowering people with disabilities. Please come forward and be a part of us and take part in the noble endeavour.
History
Sarathi Socio Cultural Trust has an interesting history. Sometime in the middle of 2003, Mr. Asis Paul had gone to meet Mr. Shyamal Sen at the latter's printing press to discuss something related to his business. In course of discussion Mr. Paul mentioned to Mr. Sen that he had been organizing Saraswati Puja at Raheja Residency in Koramangala for quite some time. Upon hearing this Mr. Sen casually asked, "Why only Saraswati Puja, can't there be a Durga Puja in Koramangala?"
That was the seed!!
After a few days some twenty odd people met at the Koramangala Club to discuss about the prospect of a Durga Puja in Koramangala. In the same meeting every one gave an assurance of raising about ? 3 lakh among themselves. That was the first fund raising.
In 2003 the Durga Puja was organized in a small Kalyan Mantap near the Koramangala Police Station. The event was quite humble compared to what we'd in 2007. But the enthusiasm of the people was sky high. From 2004 onwards the venue has been always the spacious and centrally located "Mangala Kalyana Mantapa".
Compared to the meagre ? 3 lakh rupees raised in the first meeting in 2003, the funds kept on increasing in successive years. Hence there was a necessity to register the association. In 2006, Sarathi Socio-Cultural Trust was formally registered.
For the past many years we've maintained our accounts very professionally. We conduct financial audits to make sure that the funds and transactions are clean. Since 2006 we've incorporated corporate culture into the organization. We strive to maintain the highest levels of integrity and professionalism in the organization.
Sarathi has now become a very familiar name in Bangalore. Our Durga Puja celebrations is one of the most attended and popular socio-cultural events in Bangalore. It sees participation from a wide range of people spanning across various professions, backgrounds, languages and ages. In 2007 we've got very good media coverage. Our programs were publicized in Radio City, with our Cultural Secretary going live one morning to explain the entire event to the people of Bangalore. Headlines Today & Aajtak have showcased our event in their channels. The newly launched 24 hour channel on real estate, Real Estate TV, did a small program based on our event. Going ahead, every one can expect even more from us!!