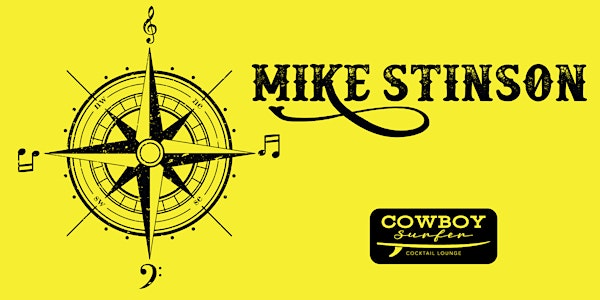 Live Music by Mike Stinson & Johnny Irion
Live on the Cowboy Surfer Small Stage: Mike Stinson
When and where
Location
Cowboy Surfer 827 Frostwood Drive Houston, TX 77024
About this event
THE TALENT
Mike Stinson and Johnny Irion have made a record together called Working My Way Down will be supporting it on this Tx trip. The record is released in March but catch a few new singles on this special event at Cowboy Surfer.
Mike Stinson is an award-winning Virginia-born singer-songwriter who moved to Los Angeles in the early 90's. Inspired by Gram Parsons, Johnny Cash and George Jones, he released his debut album, "Jack of All Heartache," in 2002. The album includes a sardonic ode to California entitled "Late Great Golden State," which Dwight Yoakam later covered on his album "Population Me" and released as a single.
Robert Hilburn of the Los Angeles Times wrote in 2003 that Stinson is "one of Los Angeles' best-kept musical secrets." In the 2004 edition of its annual Best of LA feature, Los Angeles magazine selected him as Best Country-Western Artist, adding that his "Late Great Golden State" ought to be California's official anthem.
Stinson relocated to Houston in 2009 and a year later debuted "The Jukebox in Your Heart," produced by Jesse Dayton and recorded at Willie Nelson's Pedernales Studios in Austin.
In 2013 Stinson released "Hell And Half of Georgia," which was produced by R.S. Field. In an interview, Stinson described the album as a new direction for his music.
His accolades include Song of the Year by The Houston Press and Artist of the Year by Texas Music Magazine. He's penned songs for folks like Dwight Yoakam, Billy Bob Thornton, Tony Gilkyson, Jesse Dayton and more.
THE BAR
Opened in November 2020, Cowboy Surfer is a casual bar in Memorial City, Houston keeping its namesake culture alive through drinks, eats, live music and art.
ASSIGNED SEATING
Please note, these live music tickets are not general admission standing room only tickets. Seating is assigned. To select your seating, click Tickets > Buy on Map.
DISCLAIMER
All sales are final.