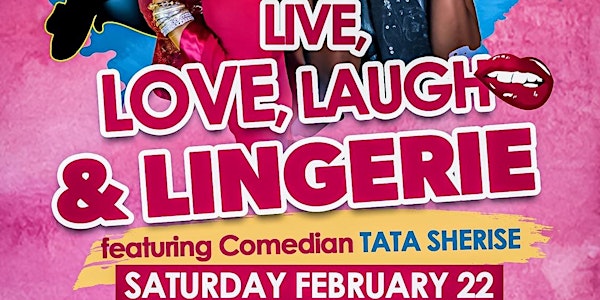 Live Love Laugh and Lingerie with Comedian TaTa Sherise
When and where
Location
Philadelphia Private Location Location Revealed After Ticket Purchased Philadelphia, PA 19125
Description
Live, Laugh, Love, & Lingerie is a celebration of womanhood, life, and freedom. In a world where so many people are depressed, anxious, and committing suicide, Cheron K. Griffin decided to help others create their own happy through the "I See You" Campaign which ignites hope and prevents suicide. Live, Laugh, Love, and Lingerie is the launch of a multi-city tour of speaking, sharing, laughing, love, dancing and prevention. She uniquely designed her tour with endorphines and you in mind. Lets Create Your Happy and Decrease Your Stress!
Live, Laugh, Love, and Lingerie is a time to put on your makeup and lingerie and be fabulous. It will be an experience offering decadent desserts and drinks that stimulate the palet. It's your time to be photo ready and pose for the camera. As a sisterhood, we will network, laugh with Comedian TaTa Sherise, and celebrate one another. The event space in itseld says a lot and is perfect for this occasion.. There's none other. AN ADULT EVENT / WOMEN ONLY!
FREE MIMOSAS / GIFT BAGS / PROFESSIONAL PHOTOGRAPHER
Location provided once ticket is purchased!
For More Information:
1-844-PLZ-SMLE (759-7653)
iseeyoucampers@gmail.com
IG: @iseeyoucamp
IG @cheronkgriffin
IG @tatasherise
PR: Edna Sims 310-770-8117