Description
"The future belongs to those who believe in the beauty of their dreams."~ Eleanor Roosevelt.
Ionut Iulian had a dream to inspire and empower others through sharing his story and becoming a published author.
Today, he invites you to celebrate with him the launch of his debut book Live. Love. Dream, a book that offers practical tools, tips and insight into how to train your mindset to overcome challenging obstacles and live your best life.
Your presence is greatly welcomed and we would be honoured if you could attend this launch and be part of this special day.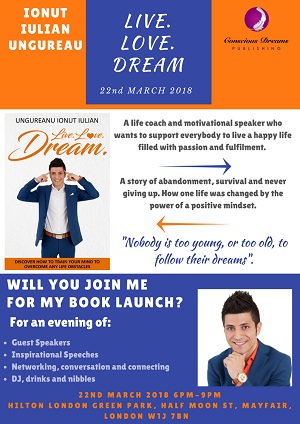 "This book is so special. It's not the classic manual full of suggestions; it's real life from a young man that went from rags to riches, from orphanage to coaching, from sleeping in the tube station to inspiring other people. I loved it!" – Max Formisano Speaker and Writer
Do you feel like you are going around in circles, forever facing the same challenges?
Are you struggling, feeling stuck or constantly on a search for true happiness?
Do you want to learn how to tap into that inner power you have deep inside and actually change your circumstances?
Transformational Coach, Ungureanu Ionut Iulian's Live. Love. Dream is a comprehensive roadmap designed to guide you through your own innate ability to tap into your own power and step into your greatness. Through sharing his own personal story and experience as an orphan in Romania, Iulian opens up a river of limiting belief systems that were responsible for holding him back in adulthood and shows us how we too can powerfully deal with our own limiting belief systems.
Pitted against the indescribable poverty and rejection in his childhood, Iulian shows us how he traversed that landscape of trauma and, from his own experience, teaches us how to realign ourselves with the powerful motivating forces of intent, desire and determination.
Live. Love. Dream is a gem of a book full of practical and actionable tips, reflections and exercises designed to help you discover your life's purpose, passion and desire to dream big. Written with remarkable candour, it's free from hype and jargon, and is written with clarity and deep compassion using examples of the author's own struggles and triumphs. Through reading, you will learn how to adopt the right mindset, overcome distress, anxiety and inaction, gain victory over obstacles and appreciate life's journey.
Join us for the book launch plus post launch drinks and after party!