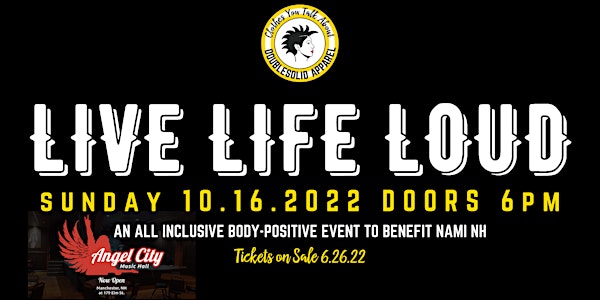 LIVE LIFE LOUD Live Music, Comedy, Art & Fashion to benefit NAMI NH
Performances by Drag Queen & Diva Amanda Playwith, Musician Mr. Nick David, Comedian Jay Chanoine, and the runway premiere of Doublesolid!
When and where
Location
Angel City Music Hall Bar & Eatery LLC 179 Elm Street #Unit B Manchester, NH 03101
Refund Policy
Contact the organizer to request a refund.
Eventbrite's fee is nonrefundable.
About this event
If the Covid pandemic has taught us anything, we are a social species that thrive on human interaction. Doublesolid Apparel is here to inspire and offer a platform to share stories and resources to live a happier, healthier life. Join us to support NAMI NH (National Alliance on Mental Illness), and all this grassroots organization brings to our neighbors, our communities, our friends, and our loved ones.
How? Attend our fall fundraiser, of course!
We at Doublesolid Apparel are not just an online clothing store. Instead, we are actively working to break the stigma of mental illness with wearable art through bold design and honest conversation. To reach as many people as possible, we have decided to put together one hell of an event for you to attend, and enjoy whilst helping to stomp out stigma, empowering everyone to talk about mental health!
By attending our event, LIVE LIFE LOUD- a night of live comedy, music, art & fashion! You will be directly supporting the efforts of NAMI NH to advocate, educate, and support making the changes so desperately needed.
See you at the show!
The LIVE LIFE LOUD Event Committee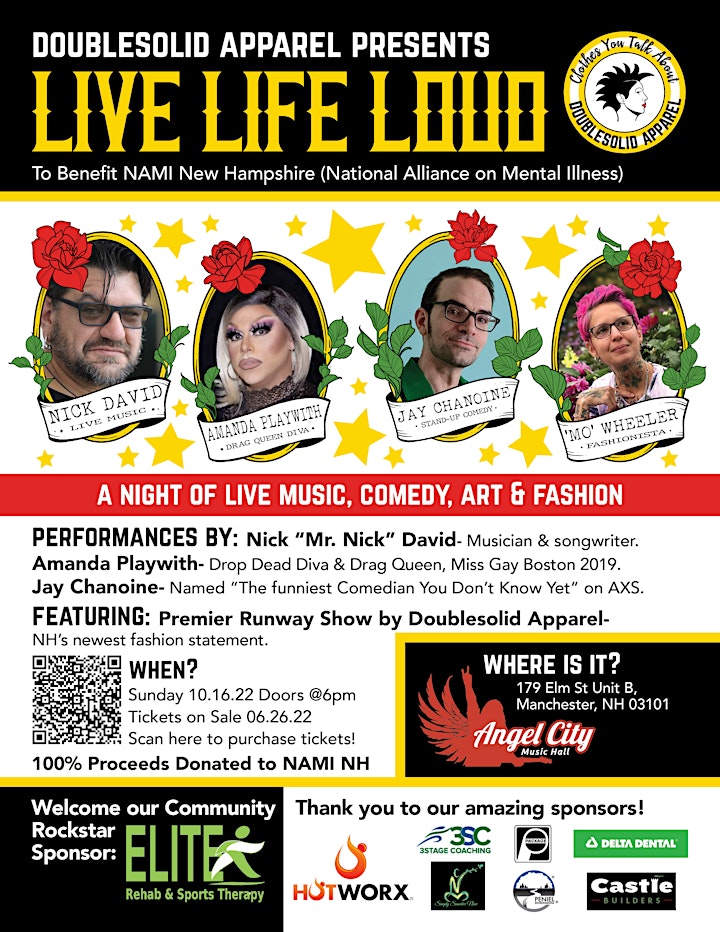 A letter from the Director:
As a New Hampshire resident with mental illness, I can tell you from personal experience it is incredibly challenging to navigate the "system" when you need mental health care. It's hard enough to recognize the signs when experiencing the symptoms, but it makes it even more difficult to thrive when the care is not accessible, and there seems to be nowhere to turn.
NAMI NH has been working since the 1970s to change that, and they have made significant changes to the legislature, professional training, peer support, and resources since then.
But these times of crisis call for more out of NAMI as they work to bridge the gap between those of us requiring health services and those providing the services we so desperately need.
Like many of you reading this, I have lost loved ones to suicide. I am a suicide attempt survivor myself. I cannot stomach losing one more person because they don't have the care to overcome their symptoms. I cannot stomach one more story of one more person who has fallen through the cracks of our healthcare system and our community. I have been there; it's a haunting, lonely experience. No one should have to experience this.
I know the road is long, but with NAMI and our community behind us, we have more power to overcome the symptoms of our illnesses. And it is for those we've lost to mental illness we do this in honor of; their lives will not have been in vain.
I also know no one likes a sad story, but music, fashion, art, and comedy are all things that lift our spirits and get us feeling good; and that's what we'll do on October 16th. We will do so in the name of those we lost and for the ones who need support by donating all proceeds of the show to NAMI NH. May all the good forces bring us together as one!
We got this. Now, let's party.
See you there!
Visit my website HERE
Check out my bio HERE