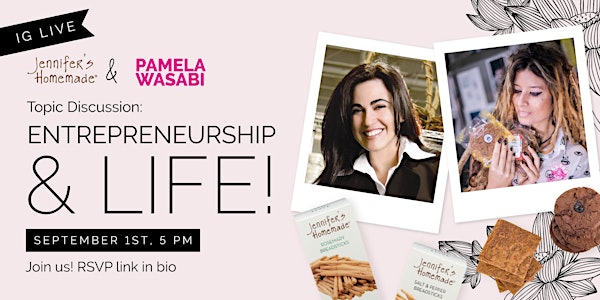 LIVE! Jennifer's Homemade & Pamela Wasabi
A live talk between women entrepreneurs Jennifer Behar and Pamela Wasabi about their journey with their vegan businesses.
About this event
Join Jennifer Behar from Jennifer's Homemade, and Pamela Wasabi from Pamela Wasabi Bakery as they discuss LIVE their experiences as women, mothers, entrepreneurs, and simply humans through this journey called life!
The LIVE talk will be streamed via Instagram on both of their accounts.
--
About Jennifer's Homemade:
Jennifer's Homemade was born out of her passion for baking and the inspiration to create delicious products with integrity and quality. Her breadsticks and flatbread are made from scratch using an Italian biga with only a few natural ingredients. She uses extra virgin olive oil, kosher salt and fresh rosemary in her recipes. Everything is vegan and all natural and made with love.
jennifershomemade.com | instagram.com/jennifershomemade
About Pamela Wasabi Bakery:
Pamela Wasabi Bakery is a wholesale one-of-a-kind vegan bakery in Miami, Florida. They specialize in making delicious natural vegan, and gluten-free cakes, cookies, desserts, and treats. Their products are perfect for health conscious consumers who want to enjoy great-tasting foods.
pamelawasabi.com | instagram.com/pamelawasabi_bakery