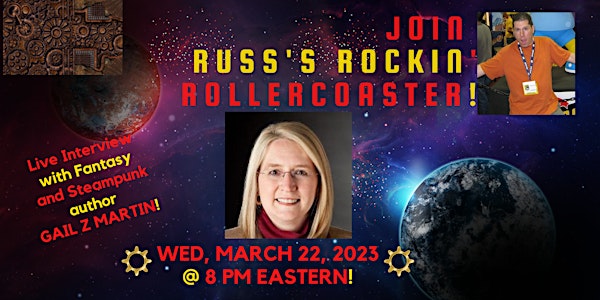 Live interview with Urban Fantasy and Steampunk Author GAIL Z MARTIN!
Host Russ Colchamiro interviews fantasy and steampunk author Gail Z Martin about her life and writing career
About this event
GAIL Z MARTIN writes epic fantasy, urban fantasy and steampunk for Solaris Books, Orbit Books, SOL Publishing, Darkwind Press, and Falstaff Books. Series include the Chronicles of the Necromancer, the Ascendant Kingdoms, Darkhurst, Assassins of Landria, Deadly Curiosities, Night Vigil, and co-written with Larry N. Martin, the Jake Desmet Adventures, Spells Salt and Steel and Wasteland Marshals. As Morgan Brice, she writes urban fantasy MM paranormal romance including the Witchbane, Badlands, Treasure Trail, Sharp and Springfield and Fox Hollow series. She is the founder of the #HoldOnToTheLight blog campaign (www.HoldOnToTheLight.com) and runs the Supernatural TFWNC Facebook group
RUSS COLCHAMIRO is the author of Crackle and Fire, Fractured Lives, and Hot Ash, the first three novels in his ongoing Sci-Fi noir series featuring hardboiled private eye Angela Hardwicke. He is currently working on the fourth Hardwicke novel.
A member of Crazy 8 Press, Mystery Writers of America, and Private Eye Writers of America, Russ is also the co-author and editor of the noir novella collection Murder in Montague Falls, editor of the Sci-Fi mystery anthology Love, Murder & Mayhem, has contributed short stories to more than fifteen anthologies, including various Hardwicke mysteries, and is the author of the Sci-Fi adventure novels Crossline, Finders Keepers, Genius de Milo, and Astropalooza.
Russ also hosts his popular Russ's Rockin' Rollercoaster podcast, interviewing a who's who of science fiction, crime, mystery, and horror authors.
He lives in Northern New Jersey with his wife, two ninjas, and black lab, Jinx, who may be an alien herself.